Tesla Hit by Competition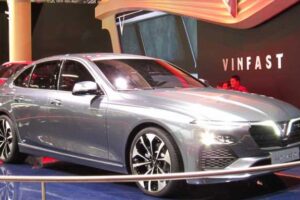 Tesla produced 440,000 vehicles in the most recently reported quarter. Its brisk production means the figure could approach 2 million for the year. China, the world's largest car market, is the only large country where its sales are not dominant. Local BYD tops Tesla in sales there.
Tesla has to worry that the world's largest car companies are chasing it for market share. So far, the sales of these manufacturers are small. However, as a group, they will eventually bring Tesla's market share down, particularly in the United States and Europe. (This is the most dependable car brand in America.)
A much less well-known EV company has emerged as another competitor and is already exporting its cars to Europe. Vietnamese electric vehicle (EV) maker VinFast will start to ship cars to Europe this year.
VinFast's market cap is about $35 billion, close to Ford's. The number seems ridiculous, except in light of EV company market caps. Tesla approached $1 trillion at one point.
VinFast's market cap does seem too high based on fundamental financials. It delivered only 9,535 vehicles in the most recent quarter and 10,183 of its 3 scooters. EV sales were up 426% from the same period the year before.
Get Our Free Investment Newsletter
Revenue for the most recent quarter was only $315 million, up 147% from last year. The company lost $526 million in the quarter.
ALSO READ: The 15 Cars That Hold Their Value the Longest

Despite a difficult financial report, it is focused on Europe, the second-largest car market in the world. VinFast's first deliveries will be to Germany, France and The Netherlands. Management plans to ship to the United States, Latin America, the Middle East and Africa soon.
VinFast's plans seem like a long shot. However, it is worth recalling its current production position is not unlike Tesla's was about a decade ago.
Sponsored: Tips for Investing
A financial advisor can help you understand the advantages and disadvantages of investment properties. Finding a qualified financial advisor doesn't have to be hard. SmartAsset's free tool matches you with up to three financial advisors who serve your area, and you can interview your advisor matches at no cost to decide which one is right for you. If you're ready to find an advisor who can help you achieve your financial goals, get started now.
Investing in real estate can diversify your portfolio. But expanding your horizons may add additional costs. If you're an investor looking to minimize expenses, consider checking out online brokerages. They often offer low investment fees, helping you maximize your profit.
Source: Read Full Article