The 12 best gardening gloves in 2021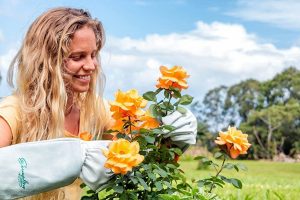 If you buy through our links, we may earn money from affiliate partners. Learn more.
You should wear a pair of durable and comfortable gloves every time you garden.
The best gardening gloves to protect your hands are from Mud, Showa, and Exemplary Gardens.
See also: The best garden hoses
Every home gardener needs a trusty pair of gardening gloves. By protecting your hands from soil, debris, thorns, and chemicals, they help prevent blisters, scrapes, and other injuries.
The type of gloves you'll need depends on the gardening task. "Standard cotton garden gloves are a good option for planting annuals and potted plants," said Karen Musgrave, marketing coordinator at Hicks Nurseries, the largest garden center on Long Island, New York. "Rose growers should choose leather gloves that are long, reaching your elbow to provide protection from thorns. For planting trees and shrubs, choose heavy-duty gloves with reinforced fingertips."
Popular Reviews
Comfort, fit, and breathability are also important. The best gardening gloves keep your hands cool and dry and let your fingers move nimbly to pull weeds, plant flowers and shrubs, and even take the occasional phone or water break. "It's important to have a snug fit so that it gives you the dexterity that you need and prevents minor injury when you want to get a little more aggressive in the soil when trimming," said Vanessa Dawson, founder of plant care startup Arber.
After consulting gardening experts and conducting our own in-depth research, we found the best gardening gloves for various budgets and uses. You can read more about glove types and materials here.
Here are the best gardening gloves in 2021
Best gardening gloves overall: Mud, Pine Tree Tools, Bionic
Best gardening gloves on a budget: Showa, CoolJob
Best heavy-duty gardening gloves: Ozero, Garden Genie
Best long gardening gloves: AmazonBasics, Exemplary Gardens
Best gardening gloves for kids: G&F, John Deere, G&F
Updated on 04/02/2021: We rewrote this guide with new categories and picks based on expert input and research. We also added an FAQ section. For our next update, we'll be testing the contenders to narrow them down to one pick per category.
The best overall
These gloves can be used for light- and medium-duty gardening tasks like mixing soil, planting flowers, raking, and pulling weeds. Nitrile, bamboo, and cotton are typical materials you'll see since they're lightweight, durable, and affordable.
If you tend to go through a lot of gardening gloves, or just like having backups on hand, try these value glove packs.
Heavy-duty gloves are usually made from leather and may contain extra features like finger reinforcements or safety cuffs to give you the backup you need for difficult tasks like planting trees or carrying heavy tools and bags of soil.
Regular gardening gloves only protect you up to your wrists. If you're pruning thorny rose bushes, you'll need long arm covers that reach to your elbows and shield your forearms.
Before you get your young ones involved in the garden, make sure they have their own pair of gloves. Kids' gloves don't tend to be heavy-duty, so keep them out of the rose bushes.
The best garden hoses
The best garden hose nozzles
The best garden mulch
The best gardening and landscaping tools
Sign up for Insider Reviews' weekly newsletter for more buying advice and great deals.
You can purchase syndication rights to this story here.
Disclosure: This post is brought to you by the Insider Reviews team. We highlight products and services you might find interesting. If you buy them, we get a small share of the revenue from the sale from our commerce partners. We frequently receive products free of charge from manufacturers to test. This does not drive our decision as to whether or not a product is featured or recommended. We operate independently from our advertising sales team. We welcome your feedback. Email us at [email protected]
Source: Read Full Article