The States Where Mass Shootings Happen the Most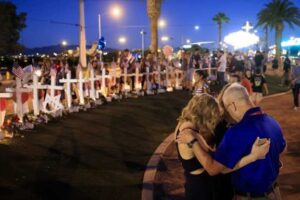 There is no agreed-upon single definition of what constitutes a mass shooting, which can explain why estimates can vary so much from source to source. The Investigative Assistance for Violent Crimes Act, which Congress passed in 2012, defines "mass killings" as three or more killings in a single incident. Other definitions include injured persons. Still, there are places where mass shootings and mass killings occur with greater frequency. (Here are the worst mass shootings in the U.S. last year.)
To find the states with the most mass shootings since 2020, 24/7 Wall St. reviewed Gun Violence Archive data. We ranked states and the District of Columbia by the number of mass shootings according to the Gun Violence Archive definition, which is four or more people injured or killed. Five states did not have mass shootings during the period – Hawaii, Montana, North Dakota, Vermont, and Wyoming. Data was collected on Feb. 2, 2023.

Several factors can contribute to the number of mass shootings in a state, most notably population size and density. Nine out of the 10 most-populated states, where more than half of the U.S. population resides, rank among the top 10 states with the most mass shootings. Likewise, mass shootings tend to occur in the most populated cities within each state. 
Out of the 45 states to record mass shootings, 33 of the largest cities in these states had the highest number of mass shootings. The three exceptions are Cleveland, Miami, and Durham, North Carolina, which are not the largest cities in their states. As a metropolitan area, however, the Miami-Fort Lauderdale-Pompano Beach area is the largest in Florida.  
The relationship between state gun control laws and the number of mass shootings seems to have little or no correlation. Among the 10 states with the highest number of mass shootings, four are graded as A or B, while four received a D or F from the Giffords Law Center, a gun-control advocacy organization. Similarly, some states have relatively lower numbers of mass shootings regardless of their gun laws. (This is the state with the worst gun laws.)
It seems that one of the biggest determinants is a large, dense city that leads in the number of mass shootings. Take Massachusetts and Arizona, the 15th and 14th most-populated states and ranking 30th and 25th in the number of mass shootings, respectively. Louisiana, with a much smaller population (25th most-populated), ranks seventh in mass shootings, thanks in large part to the constant beat of mass shootings in New Orleans.
Other states with relatively lower populations but a relatively high number of mass shootings include Mississippi, led by its largest city, Jackson, and South Carolina, thanks to a high number of mass shootings in its largest city, Charleston. 
Here are the states and cities where mass shootings happen the most.
Click here for our detailed methodology.
Sponsored: Find a Qualified Financial Advisor
Finding a qualified financial advisor doesn't have to be hard. SmartAsset's free tool matches you with up to 3 fiduciary financial advisors in your area in 5 minutes. Each advisor has been vetted by SmartAsset and is held to a fiduciary standard to act in your best interests. If you're ready to be matched with local advisors that can help you achieve your financial goals, get started now.
Source: Read Full Article