Time to move away from equity and focus on debt?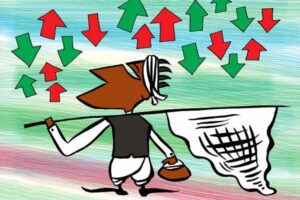 The Indian equity market is likely to remain under pressure and rangebound over the next few months.
This comes as global central banks, led by the US Federal Reserve look at a possibility of hiking rates aggressively to tame inflation.
Back home, the Reserve Bank of India, too, remains data dependent in its endeavour to keep inflation in check and pursue an aggressive monetary policy stance.
The possibility of El Nino has also raised the risk of stoking inflation, which in turn can keep RBI hawkish over the next few months.
This, analysts believe, presents a good opportunity for investors to shift focus from solely equities to the debt segment, which offers a good return potential over the next few months.
"It is difficult for the equity markets to get re-rated in a rising interest rate regime.
"We expect the equity markets to remain sideways unless there are positive global cues, especially from the US.
"This seems unlikely at this stage. The debt side of the market is giving investors fantastic yields to lock into from a long-term horizon," said Swarup Mohanty, chief executive officer (CEO) and director, Mirae Asset Investment Managers (India).
In a recent statement before the Senate Banking Committee, Fed chair Jerome Powell reiterated that the Federal Open Market Committee (FOMC) is likely to raise rates further than previously anticipated.This would set the door wide open to a 50 basis points (bps) rate hike later this month, if required.
The two key data releases, analysts said, that will determine the outcome of the March 21-22 meeting of the FOMC are the employment report (March 10) and the CPI report (March 14).
"If longer-term interest rates remain too low to slow down the economy and squeeze inflation out of the system, the federal funds rate may even have to go higher than most of us can currently imagine.
"A federal funds rate of 7 or 8 per cent may seem incredible right now.
"But it was not long ago that even 6 per cent seemed impossible," said Philip Marey, senior US strategist at Rabobank International.
Meanwhile, returns from Indian equities — at the index level — have been dismal so far in calendar year 2023 (CY23).
While the BSE Sensex has slipped 1.6 per cent so far in CY23, the Nifty50 has lost nearly 2.7 per cent, data showed.
Small-cap and midcap indices on the BSE have fared worse with both these indexes falling around 3.6 per cent and 2.7 per cent, respectively, during the period.
"Markets are pricing in a 50 bps rate hike in the next Fed meeting on March 21-22. In the near-term, investors may adopt a twin strategy of opting for attractive fixed-income returns with incremental investable funds while continuing to buy high-quality stocks on market weakness," said V K Vijayakumar, chief investment strategist at Geojit Financial Services.
Source: Read Full Article