Tom Petty Auction Items Being Reviewed By House After Family's Claims Of Theft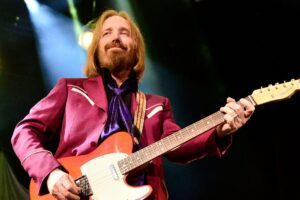 An attorney for an auction house planning to put items from rocker Tom Petty on the block has said it will investigate claims by his family that the items were stolen.
Mark S. Zaid told TMZ that RR Auction has been cooperating wth the Petty family "from the moment they reached out to us just days ago and will happily continue to do so without unnecessary hostile threats of litigation. We take theft allegations such as these very seriously. Indeed, in the years I have represented the company, we have never failed to reach an amicable resolution when on the rare occasion items presented by our consignors turned out to have provenance concerns."
The RR Auction house was planning an auction of personal property of Petty's.
A statement from the family said it "firmly believes" the auction items have "been outright stolen from a secured archive based on prior knowledge, staff observations and documentation. The family is pursuing all available legal action for the immediate return of these items, and they ask that fans and collectors refrain from participating in this auction until the matter is settled to avoid getting further involved in this legal action."
Neithe side disclosed who provided the items or how they were acquired. The items at issue include jackets, hats, vests, boots, shirts, shoes, autographed items and recent exclusive limited editions."
Must Read Stories
Rock & Soul Legend Dies At 83: Reaction, Photo Gallery & Obituary
DGA & Studios "Have A Lot Of Ground To Cover" Before Any Deal, But Talks Continue
'Little Mermaid' To Be Part Of That World With $180M Global Start: Preview
'The Flash' Star Grant Gustin On Filming The Finale & Saying Goodbye To The CW Series
Read More About:
Source: Read Full Article