U.S. Job Growth Exceeds Estimates In August But Unemployment Rate Unexpectedly Jumps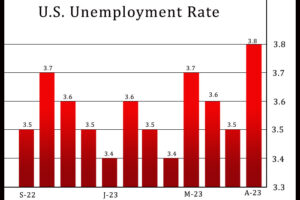 While the Labor Department released a closely watched report on Friday showing modestly stronger than expected job growth in the month of August, the report also showed an unexpected increase in the unemployment rate.
The Labor Department said employment climbed by 187,000 jobs in August compared to economist estimates for the addition of 170,000 jobs.
The bigger than expected increase in employment reflected continued job growth in healthcare, leisure and hospitality, social assistance, and construction, although employment in transportation and warehousing declined.
Meanwhile, the report also showed notable downward revisions to pace of job growth in the two previous months.
Revised data showed employment rose by 105,000 jobs in June and by 157,000 jobs in July, reflecting a combined downward revision of 110,000 jobs.
The Labor Department also said the unemployment rate climbed to 3.8 percent in August from 3.5 percent in July. Economists had expected the unemployment rate to remain unchanged.
With the unexpected increase, the unemployment rate reached its highest level since hitting a matching rate in March 2022.
The advance by the unemployment rate came as the size of the labor force surged by 736,000 persons, while the household survey measure of employment rose by 222,000 persons.
"The jump in the labor force, which lifted the participation rate by two tenths, brought much needed slack to the labor force and will be cheered by the Fed," said FHN Financial Chief Economist Chris Low.
The Labor Department also said average hourly employee earnings rose by $0.08 or 0.2 percent to $33.82 in August.
Annual wage growth slowed to 4.3 percent in August from 4.4 percent in July, while economists had expected the pace of growth to remain unchanged.
"The Fed couldn't hope for a better report in their fight against inflation," said Chris Zaccarelli, Chief Investment Officer for Independent Advisor Alliance. "Wages are down slightly and the unemployment rate ticked up, both of which are signs that wage pressures and an overheated job market are subsiding."
He added, "If the economy can continue to expand and the labor market can cool at a slow pace, rather than at a rapid clip, then the Fed can afford to leave rates where they are and patiently wait for (current) higher rates to do their work."
Source: Read Full Article