Voda, Airtel take on Rel Jio in exchanges, signal the fight is on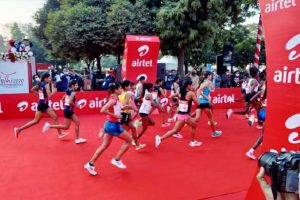 Over the three-month period, Airtel's stock price has rallied from Rs 432 to Rs 540, while Vodafone Idea has risen from Rs 9.2 to Rs 11.8 per share.
In what might be the beginning of a new cycle in the hotly contested telecom sector, Bharti Airtel and Vodafone Idea have outperformed Reliance Industries on the bourses since October 1, after underperforming the latter for most of calendar year 2020.
In fact, Vodafone Idea has been the top performer over the past three months, while RIL has seen a decline in its stock price, albeit from its all-time high seen in September 2020.
Vodafone's stock price has risen about 28 per cent over the period, while Bharti Airtel's has increased 25 per cent. In contrast, RIL's stock price has fallen 13 per cent, ending at Rs 1,934 a piece on January 8, as against Rs 2,225 on October 1, 2020.
Over the three-month period, Airtel's stock price has rallied from Rs 432 to Rs 540, while Vodafone Idea has risen from Rs 9.2 to Rs 11.8 per share. (See adjoining chart)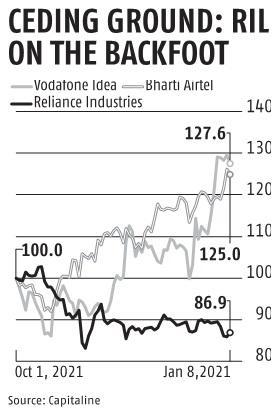 The two telcos have, however, lagged behind over a five-year period. RIL's stock price has risen around fivefold since the soft launch of Jio in December 2015. Though Jio still accounts for a minor portion of RIL's consolidated revenues and profits, the rally in its share price in the last five years has been driven by a rapid scaling up of the company's mobile and digital platform.
In comparison, Vodafone Idea's share price has fallen about 90 per cent over that period and Airtel's share price has risen around 50 per cent.
Analysts now expect the performance gap between the three mobile operators to narrow as the market share of incumbents has begun to stabilise and Jio is not growing at their expense anymore.
According to recent monthly data from The Telecom Regulatory Authority of India (Trai) on subscribers and MNP (mobile number portability), Airtel now leads in net subscriber addition.
"Jio's active subscribers rose by only 0.7 million to 319 million in September, against 7.8 million additions during Q2FY21. Its subscriber addition has been much lower than its historic average after the tariff hike in November 2019, when it started charging outgoing voice calls," wrote Sanjesh Jain and Sameer Pardikar of ICICI Securities in a report on the sector.
Though this has helped Airtel gain share in the mobile broadband market, Jio remains the leader in terms of total and active mobile broadband subscribers.
Analysts expect Airtel to be the biggest gainer of a historically high MNP churn rate in the industry. According to ICICI Securities, MNP churn rate has increased to around 0.8 per cent of active services, against 0.5 per cent in the pre-Covid period.
"Bharti is our top pick in the telecom sector, as it remains well-placed to benefit from improved industry structure, likely expansion in share of wallet and falling spectrum and equipment capex intensity," said GV Giri and Balaji Subramanian of IIFL Securities in a recent report.
Vodafone's share price rebound has been the most surprising, almost doubling in last 12 months, against 20 per cent and 30 per cent increase in the share prices of Bharti Airtel and RIL, respectively.
It appears that investors are betting on Vodafone surviving the price war and that its finances and market share could stabilise in 2021. "For Vodafone Idea, it could be decisive year with big events such as fund-raising, translation of tariff hikes, and reducing cash losses," say analysts at ICICI Securities.
Source: Read Full Article