Want to see Coach K at Cameron Indoor? Be ready to spend big money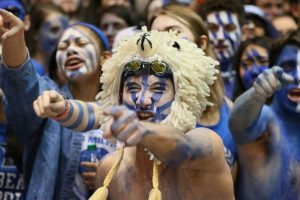 A Duke home game is already among the toughest to get in all of college basketball. Now that coach Mike Krzyzewski has announced the coming season will be his last on the Blue Devils' bench, fans can plan to shell out even more to get into Cameron Indoor Stadium, according to industry analysis.
Thanks to Cameron's limited capacity compared to other well-known college arenas around the country, combined with the presence of stars like Zion Williamson, the average price for a Duke home game was $746 during the 2018-19 season, according to secondary marketplace site TickPick. The most expensive game on TickPick that season was the Feb. 20 contest against North Carolina, the infamous Williamson shoe blowout game, with an average price of $2,302.
Analysts with the company anticipate the average ticket price this season will easily surpass $1,000 a game, with events like Coach K's final home contest and the date against the Tar Heels likely to rival the cost of a Super Bowl ticket. TickPick also anticipates a spike in cost for Duke road games of at least 200%. Suffice to say there figures to be more hype than usual when the ACC schedule is released later this year.

Source: Read Full Article