WGA & SAG-AFTRA To Rally For California Bill That Would Grant Unemployment Insurance To Strikers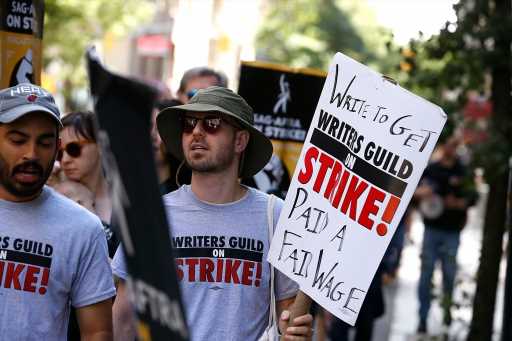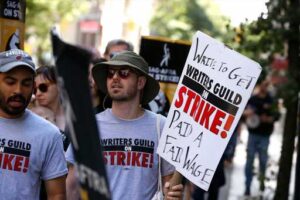 The Writers Guild and SAG-AFTRA will rally on Thursday at Amazon Studio in Culver City to highlight their push a bill that would provide unemployment insurance to striking workers in California. Striking writers and actors in New York and New Jersey are already eligible to receive unemployment benefits after 14 days on the picket line, but not in California.
Related Stories
WGA West's Meredith Stiehm & SAG-AFTRA's Joely Fisher Lobby For California Bill That Would Give Striking Workers Unemployment Benefits
California Labor Federation Chief Says It's "Shameful" State Doesn't Offer Unemployment Insurance To Striking Workers
Senate Bill 799, if it makes it through the Legislature and is signed by Gov. Gavin Newsom, would change that. It passed through the Assembly Insurance Committee last week and the Legislature has until September 14 to send it to the governor's desk for signature.
WGA West President Meredith Stiehm and SAG-AFTRA Secretary-Treasurer Joely Fisher, who spoke before the Insurance Committee last week in Sacramento in support of the bill, will be among the speakers at tomorrow's picket and rally, which will get underway at 11 am.
"Writers have had to rely on strike loans from our union, donations, philanthropy, and second and third jobs to pay for their basic needs since May 2," Stiehm told the committee. "Four months without work is emotionally brutal and financially disastrous. I'm proud to report that our members have held strong and kept their resolve throughout this long hot labor summer, but they are suffering."
"It's time for California to catch up and meet the demands of the time," she added. "Writers are the present-day example of workers who could greatly benefit from UI, but we're really here for the workers in the future who will need this protection if they make the difficult decision to go on strike."
Fisher, in her remarks before the committee, said that "Denying UI to striking workers is another way employers hold an unfair advantage over workers fighting for what's right. CEOs play the waiting game, knowing workers living on the margins have rent to pay and groceries to buy. SB 799 gives workers a chance to fight for what's fair. We are in the fight of our lives — for our jobs, our industry, our future. We cannot wait any longer for UI benefits that will help us survive and will help all workers who stand up to fight for a better future."
Other speakers at tomorrow's rally include SAG-AFTRA Executive Vice President Ben Whitehair; WGA West Member Kayla Westergard-Dobson; IATSE International Vice President Thom Davis, and LA County Federation of Labor President Yvonne Wheeler.
Must Read Stories
'Origin' Review & Ava DuVernay Q&A; Jack Huston Interview; Richard Linklater; More
Samuel L. Jackson In Talks To Play U.S. President In 'The Beast' Alongside Joel Kinnaman
Faces Class Action In Carriage Dispute; Disney Touts Hulu Live TV Subs; Zaslav Weighs In
Hulu Stake Sale Timeline Moved Up; Valuation Likely To Far Exceed Initial $27.5B
Read More About:
Source: Read Full Article