Where People From New York Are Moving to the Most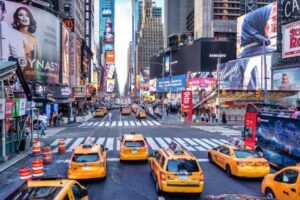 New York is losing residents at a faster pace than nearly every other state in the country. According to the latest numbers from the U.S. Census Bureau, more than 571,000 Americans – about 3% of its 2020 population – left the Empire State to live elsewhere in the country in 2021. Only California, a state that's home to nearly twice as many people, reported more outbound moves than New York in 2021.
Explanations for why so many New Yorkers are relocating vary, and are often personal. Family considerations, changes in marital status, and job transfers are the reasons behind millions of moves in the U.S. each year – and in 2020 and 2021, fear of COVID doubtless inspired many residents, especially those living in crowded New York City, to seek a change of scenery.
But other circumstances specific to New York – which is one of the most expensive places to live – are also likely pushing many out of the state. A recent report from the Tax Foundation, a non-profit think tank, found that New York has the highest tax burden in the country, with state and local taxes amounting to 15.9% of the typical income in 2022. Additionally, the overall cost of living in New York is about 9.5% higher than it is nationwide on average, according to the Bureau of Economic Analysis.
No matter the explanation, over half a million left New York for a different state in 2021, and some parts of the country have drawn in far more ex-New Yorkers than others.
Using data on state-to-state migration flows from the U.S. Census Bureau's 2021 American Community Survey, 24/7 Wall St. identified the states people from New York are moving to the most. The 50 places on this list – Washington D.C. and every state except New York – are ranked by the share of residents in 2021 who lived in New York in 2020. For each state and Washington D.C., we also reviewed net population change from July 1, 2020 to July 1, 2021 with data from U.S. Census Bureau's Population and Housing Unit Estimates program.
Click here to learn where people from New York are moving to the most
The top five states on this list alone took in over half of all New Yorkers who moved within the U.S. in 2021. Three of them – Connecticut, New Jersey, and Pennsylvania – border New York, and are popular destinations for those looking to buy a home or start a family, while remaining in commuting distance to New York City. These destinations were particularly popular with COVID refugees. (Here is a look at the cities where the most people left during the pandemic.)
The two other states that rank in the top five are Florida and North Carolina. Both offer a warmer climate, a reduced tax burden, and a lower overall cost of living than New York. For these reasons, Florida in particular is an attractive option for many retired New Yorkers. (Here is a look at the cities that attracted the most new residents last year.)
Sponsored: Find a Qualified Financial Advisor
Finding a qualified financial advisor doesn't have to be hard. SmartAsset's free tool matches you with up to 3 fiduciary financial advisors in your area in 5 minutes. Each advisor has been vetted by SmartAsset and is held to a fiduciary standard to act in your best interests. If you're ready to be matched with local advisors that can help you achieve your financial goals, get started now.
Source: Read Full Article