Who will replace retiring Drew Brees as New Orleans Saints' starting quarterback? Answer may not be simple.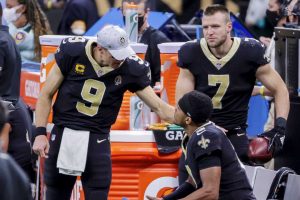 After taking two months to weigh his options, Drew Brees picked the expected one Sunday, announcing his retirement from the NFL after 20 mostly stellar seasons.
The next question: Who will the New Orleans Saints' starting quarterback be in 2021?
Head coach Sean Payton told NFL Media late last season that, "I feel like our next quarterback is in the building."
That would suggest the outcome most would expect, that either backup Taysom Hill or Jameis Winston will replace Brees, the NFL's all-time leader in passing yards (80,358).
Yet what seems like a fairly straightforward line of succession could meander.
The Saints have gone 8-1 over the past two years when injuries sidelined Brees. In 2020, it was Hill who started four times in Brees' absence, finally getting extensive experience under center after being the Swiss Army knife component of this offense for so long.
Hill was credited with three wins while completing nearly 73% of his passes last season for 928 yards, four TDs and a 98.8 QB rating. From an efficiency standpoint, he was nearly Brees-esque. However, no one will mistake them for clones. Hill has yet to approach Brees' passing volume, averaging a shade more than 200 yards per start – almost 100 fewer than Brees' average during his 15 seasons in New Orleans.

Source: Read Full Article