With Record Surge In Air Travel In Sight, Americans Urged To Renew Passport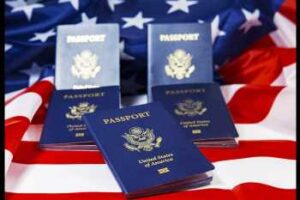 As the United States approach what is expected to be its busiest season on record, the Department of State has urged Americans to check their passport expiration date, and to take action to renew their passport well in advance of international travel this year.
The State Department's passport processing times are currently 8-11 weeks for routine processing and 5-7 weeks for expedited processing, which costs an additional $60 per application. These processing times fluctuate throughout the year depending on demand and it is anticipated that they will rise, especially as the busier travel season is approaching. Processing times begin when the State Department receive an application and do not include delivery times.
As more Americans are traveling internationally again after the pandemic era slowdown, the State Department said it is directing resources to meet the unprecedented demand seen so far in 2023.
"We are on track to set the record for the highest demand year ever, far surpassing volumes seen during previous surges in demand in 2007 and 2017. During some weeks this winter, the Department received more than 500,000 applications, the highest number ever for this time of year, exceeding our official projections," the Department spokesperson said in a statement.
The spokesperson said that the Department is aggressively recruiting and hiring across its passport agencies and centers. Passport team members nationwide are working tens of thousands of hours overtime a month to issue millions of passports sought by traveling Americans. It has opened a satellite office to help process the large number of applications received.
The Department admitted that some customers are facing extended wait times when calling the National Passport Information Center and that it is taking steps to improve the telephone experience.
It urged customers who have questions about how to apply or the status of their passport application to visit its website, travel.state.gov, which has extensive information and allows customers to check the status of their passport application and sign up for updates via email.
Source: Read Full Article