$ADA: U.S. Congress Candidate Praises Cardano for Being 'Extremely Efficient'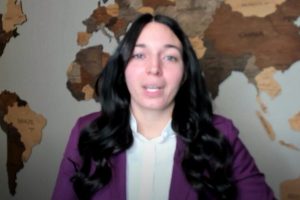 On Monday (September 19), January Walker, United Utah Party candidate for Utah's fourth congressional district, commented on an interesting use case for blockchain technology, and pointed out that not all blockchains are as energy-hungry as Bitcoin.
https://youtube.com/watch?v=jqE4ELMLNHo%3Ffeature%3Doembed
The U.S. is holding its mid-term elections on 8 November 2022; all 435 seats in the House of Representatives and 35 of the 100 seats in the Senate are on the ballot. Walker, who is an advocate for blockchain-powered voting, is running as a third party candidate against incumbent Republican Representative Burgess Owens.
https://youtube.com/watch?v=flBP_VyGYk0%3Ffeature%3Doembed
On her campaign website, she has this to say about personal privacy and cybersecurity:
"As illustrated in the Bill of Rights, data privacy is a human right. You should have full control over your personal data & not be a product of big data. As we transition to a fully digital world.  Solutions like Blockchain Identity Wallets will allow individuals,  to control their information and vote securely with Blockchain Voting in elections."
Yesterday (September 19), Walker took to Twitter to explain how "blockchain will solve the water crisis."
Walker said:
"Smart water grid systems enhance consumption management, sustainability and compliance, & effective policymaking using integrated Blockchain & IoT technologies. Allowing for sustainability and resiliency in water & drought… Really it's the pairing of distributed ledger tech with metering & IOT that will allow us to track and trace water usage across states…
"There are chains that are inefficient like Bitcoin. Others like the @cardano or even @hedera hashgraph are extremely efficient. Hedera is even more efficient than @Visa transactions."
In October 2020, during an interview with Cointelegraph, IOG Co-Founder and CEO Charles Hoskinson said that within the next few years he could see see Cardano power voting solutions for national elections:
"I think it's entirely possible in three to five years that we can take that test back and sell it to the government of Ethiopia, for example, or the government of Georgia. And they're in the business of looking for new voting systems because they're having so much problem with census and registration and fresh and free elections."
He went on to say:
"If you're just doing a general election where you don't care about privacy, you're counting votes, you can do a billion people. When you want an election where I can verify it, but I can't prove to an outside party that's who I voted for, but at least I know my vote is counted and I want my privacy and I want a paper ballot back up. And then that's when you get into a situation where you go from billions to thousands, and you have to shard it."
Image Credit
Featured Image via Unsplash
Source: Read Full Article