An Exclusive Interview with Howard Carr, CEO at Sheer Markets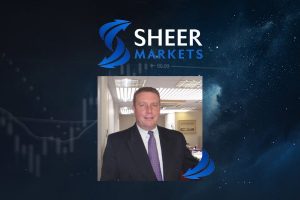 Finance Magnates recently got the chance to interview Howard Carr, Chief Executive Officer at Sheer Markets. As a respected opinion in the global financial services industry, Carr talks on the topic of Sheer Markets and the impact of how the landscape of FX is changing the industry as a whole.
Sheer Markets are a global team familiar with each other who have, quite literally, hundreds of years of collective experience across multiple financial markets disciplines.
At Sheer Markets, integrity is the foundation in how we operate, in how we interact and in how we develop. Our core values reflect this by guiding how we treat others, how we conduct ourselves, and how we work with each other, our partners, our stakeholders, our clients and within the markets in which we are active.
Secondary to integrity is collaboration, patience, and adaptability. We acknowledge the differing values, skillsets, and strengths our individuals contribute, and how teamwork delivers a synergistic benefit to our Company. We understand that markets in which we operate are fluid, and the factors that drive volatility, users, demand, and products constantly change; we want to be instrumental in driving that change, adaptable in meeting that change and patient in succeeding with that change.
Our commitment is therefore to work responsibly, diligently, honestly, and collectively towards common objectives, and to proactively allow change to shape our approach.
Our vision is quite simple. To meet existing and future client demand and provide Forex execution equality, by 'levelling the playing field', and extending streaming competitive Non-Deliverable Forwards (NDFs) and Emerging Market Foreign Exchange services alongside the traditional instruments to all retail traders/investors.
In keeping with this vision Sheer Markets will also offer portfolio management services, institutional managed trading strategies to the retail sector and institutional execution services.
With the advent of globalisation, hedging requirements, investment opportunities and trending volatility, institutional NDF volumes have increased significantly over the past 10 years. However, this massive growth in turnover and interest has not been reflected in the retail section of the market, and access to these opportunistic and developing instruments remains sporadic and costly for the retail trader.
At Sheer Markets we plan to change that by providing institutional NDF type access to retail clients. In addition to our traditional NDF liquidity, we are offering streaming spot prices in a growing selection of NDF CFD currency pairs.
The Forex markets are dynamic, and to be successful you need to meet the challenges by reinventing yourself and embracing change. Put another way, what works today may not work tomorrow, so yes, the landscape is always changing. This is the very reason why we at Sheer Markets are developing and promoting a suite of streaming NDF CFD products specifically directed towards the retail trader.
Sheer Markets (Cyprus) Ltd is a full-service broker and is authorized by CySEC to offer a range of investment and ancillary services. This diversification of service also translates to the diversification of an ever-growing instrument list. This we believe is critical, as it reinforces our service levels and commitment to our clients. Moreover, market interest ebbs and flows, so having access to a diverse product range ensures the investor is given the best opportunities. Whilst we are one of the first regulated online brokers to provide streaming retail NDF CFD's, we are also offering in excess of 1,400 CFD trading instruments, including FX, indices, commodities, and single stocks.
Sheer Markets is in the client services industry, and our overarching principle is to supply clients with trading services, not to supply trading services to clients. All investors in our products will be afforded support from our locally based accounts management team.
Sheer Markets (Cyprus) Ltd are licensed by CySEC and our services are provided only to residents of the EEA countries under the Cross Border services passporting regime. However, the Sheer Markets brand is global, and it is our intention very soon to be able to offer services and liquidity to clients in Asian and Latin American countries where their local currencies trade as an NDF.
Our NDF offering, whilst retail in nature, is perfectly suitable for a range of intuitional and corporate clients, including hedge-funds, CTA's and online FX brokers wishing to diversify their own product range.
We believe being first to market streaming NDF CFD liquidity to the retail market will solidify our Sheer Markets brand as a market leader. This, coupled with our cultural values, ensures we are positioned strongly in what is a competitive and opportunistic marketplace.
Yes, absolutely. We plan to continue to widen our NDF CFD currency pairs on offer and create synthetic/hybrid streaming prices in the near future to meet continuing demand.
My suggestion for any retail investor is to do your research and partner with a broker that you can trust and who will grow with you.
Source: Read Full Article