Avalanche (AVAX) Ecosystem Poised For An Explosion, Here's Why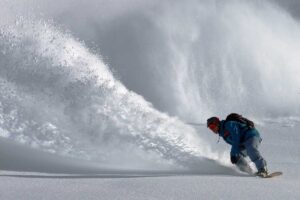 The Avalanche (AVAX) ecosystem is gaining increasing attention in the world of blockchain and decentralized finance (DeFi). Despite not being as well known as other chains, such as Ethereum or Binance Smart Chain, Avalanche's unique consensus mechanism and interoperability with other chains make it a compelling option for developers and users alike. 
With a promising Total Value Locked (TVL) and strong engagement from users and developers, the Avalanche ecosystem is on the cusp of significant growth and innovation.
Is AVAX The Next Big Thing?
According to DeFi researcher Wacy, the Avalanche ecosystem is on the verge of blooming, and there are several reasons behind its recent increase in popularity. While many are focused on the new Layer 2 solutions, Wacy suggests that the potential of Avalanche should not be overlooked.
One important measure of a chain's success is Total Value Locked, and despite the token price dropping over 80%, the TVL for $AVAX has only decreased by 50%. This indicates continued interest in the chain and serves as a positive indicator of its future potential.
In addition to TVL, other metrics such as daily active addresses and daily transactions show good growth, indicating strong engagement from users. The number of contracts and deployers is also a powerful indicator of interest in a project, and this metric also shows strong engagement from developers.
Furthermore, Wacy notes that The Avalanche community is also growing, with increasing followers on Twitter and a high level of Twitter mentions over the past 7 days. These basic metrics may be overlooked by some, but they provide valuable insights into the potential of the Avalanche ecosystem.
Avalanche Emerges As A Hidden Gem For Developers and Users
According to Wacy, as the Avalanche ecosystem continues to gain attention in the world of blockchain and decentralized finance, several projects are emerging as potential main narratives that could see a significant rise during this heyday.
One such project is Trader Joe, which is currently the number one decentralized exchange (DEX) on Avalanche. By creating the most capital-efficient DEX in DeFi, Trader Joe is shaping the future of decentralized finance. The JOE token allows users to earn a share of the platform's revenue and unlocks access to exclusive rewards and features.
With a current price of $0.35 and a market cap of $120M, Trader Joe is listed on Binance, OKX, and Huobi, and is poised for significant growth in the coming months.
Another project that could see significant growth during the Avalanche ecosystem's heyday is GMX. GMX is a decentralized exchange with low swap fees and zero price impact trades. While it is well known for its support of Arbitrum, GMX also supports AVAX.
With a current price of $54 and a market cap of $475 million, GMX is listed on Binance, OKX, Huobi, and KuCoin, and staking GMX earns rewards, with 30% of swap and leverage trading fees converting to ETH/AVAX and distributing to GMX tokens. Staking on Arbitrum earns ETH while staking on Avalanche earns AVAX.
Overall, these projects represent the unique potential of the Avalanche ecosystem. With its unique consensus mechanism, interoperability with other chains, and promising metrics, Avalanche is attracting significant interest from developers and users alike. As more projects like Trader Joe and GMX emerge, we can expect to see continued growth and innovation in the ecosystem, with new use cases and applications for blockchain technology.
At present, AVAX is experiencing a significant drop in value across all time frames. Its current trading price is $14.09, with a slight increase of 0.1% over the last 24 hours. However, over the seven, fourteen, and thirty-day periods, AVAX has experienced a decline of 5%, 6%, and 16% respectively.
Featured image from Unsplash, chart from TradingView.com 
Source: Read Full Article