Bitcoin and Ether Market Update January 21, 2021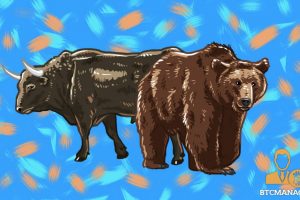 ETH/USD
The Ethereum Project token ETH hit the solid horizontal resistance at $1,230 on Sunday, January 17, and ended the week with a 2.3 percent decrease in price. The daily chart was looking more and more bullish especially after the ether successfully consolidated near $1,050 on January 12. Now it was ready to form another leg up in a search of its new all-time high.
The ETH/USD pair surpassed the mentioned weekly resistance on Monday reaching $1,257. Nonetheless, it was caught in a triangle pattern very similar to the one we discussed for BTC. Unlike the biggest coin, ether managed to break out of it and skyrocketed to the next major daily/weekly resistance at $1,370 on Tuesday, January 19. What's more, it hit $1,440 during the day session thus registering a new all-time high.
The mid-week session on Wednesday was a wild one for the ETH token as it fell to $1,230 during the sudden market crash before recovering to $1,377 in the evening.
On Thursday, January 21, the coin followed the example of the rest of the major altcoins and initiated a correction. It pulled back to the same old weekly support/resistance at $1,230, deleting 10.6 percent in the span of just a few hours.
As of the time of writing, ETH is trading at $1,210.
Source: Read Full Article