Bitcoin, Gold Poised For Growth Amidst US Fiscal Troubles: Analyst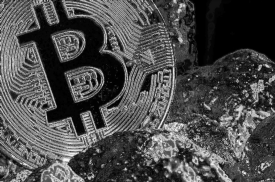 Bitcoin (BTC) and gold, two seemingly divergent assets, find common ground in the eyes of veteran macro investor Luke Gromen. In a recent interview, Gromen posits that these assets could flourish as the fiscal challenges in the United States continue to mount.
Gromen's argument hinges on the idea that both gold and Bitcoin are "duration assets" with fixed supplies and the potential for their face values to rise. In times of fiscal distress, these assets tend to shine.
As the US grapples with fiscal issues exacerbated by relentless quantitative easing and potential shifts in Federal Reserve policies, Gromen believes that this environment will create a fertile ground for gold, oil, and Bitcoin.
"[Gold and BTC will do well] because they are simply duration assets with a more fixed supply and a face value that can rise," he stated.
"They do well when a nation has a fiscal problem, and when the reserve currency issue of the world and her allies all have fiscal problems, and hers is at least as bad or probably worse than the others – even Europe – then it's really good for gold and Bitcoin."
BRICS And The Dollar's Reshaping
Gromen also delved into the potential ramifications of the BRICS nations (Brazil, Russia, India, China, and South Africa) launching a gold-backed currency. Such a move could undermine the US dollar's longstanding position as the world's reserve currency. The prospect of a gold-backed currency gaining traction among these major economies could weaken the dollar's dominance in international trade and finance.
Meanwhile, the cryptocurrency sector is experiencing a bullish surge, with Bitcoin leading the charge. It has surpassed the critical psychological threshold of $28,000, sparking optimism among investors. Notably, Cryptoinsightuk, a pseudonymous crypto trading analyst, has conducted a revealing analysis of Bitcoin's relative strength index (RSI) indicator.
Bitcoin moving halfway to the $28K region. Chart: TradingView.com
Bitcoin's Bullish Momentum
Cryptoinsightuk's analysis tracks the instances when Bitcoin's weekly RSI crossed above the 50 mark (green) and then dropped below this level (red). The expert found that, on average, these events led to a remarkable 1,100% price increase for Bitcoin. Such a surge could become a reality in the right circumstances, including a supply squeeze and the introduction of a spot Bitcoin exchange-traded fund (ETF).
As Bitcoin's price currently hovers around $27,539 with a 1.2% decline over the past 24 hours but a 4.9% gain over the last seven days, investors are closely monitoring these developments, eagerly awaiting signs of whether Bitcoin's bullish momentum will persist in the coming weeks and months.
(This site's content should not be construed as investment advice. Investing involves risk. When you invest, your capital is subject to risk).
Featured image from iStock
Source: Read Full Article