Bitcoin Price Plunge, a Healthy Correction or Stipulation of a Downtrend?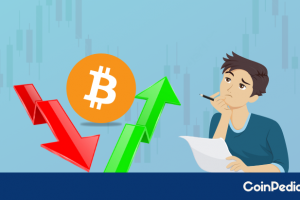 Buyers Need to Step-in to Save Bitcoin price plunge!
Bitcoin is facing an amplified selling due to which the BTC price is shedding to the levels below $33,000. The bitcoin price rally tossed suddenly, the previous working day where-in the target of $50K appeared misty. The bitcoin bulls look exhausted at the time of writing as the rate at which the bulls fund the BTC network is pretty low.
The Bitcoin price consolidated for a major push and now in the 4-hr chart on the verge to break down the support levels at $33K and hence a more steep downtrend was speculated. Woefully, the BTC price declined below the levels and hence the buyers are required to jump in to save the price to slash further as mentioned by an analyst, Rekt Capital.
However, the analyst also mentioned the buyers have come in action, yet a long way to go. On the contrary, a popular financial advisor Stefano Bottaioli has predicted the Bitcoin price target at $30,000 where the fight between the bears and bulls will initiate.
A healthy Correction for a Stronger Market!
As bitcoin smashed $41K effortlessly, many believed the price would rally further towards $50K. But a drastic crash dropped the price to the current levels around $32,600. While some believe the current plunge would drop the price close to the levels below $30K, some believe it as a healthy correction.
According to an analyst, Micheal van de Poppe, BTC price is going as per the plan and hence would grant opportunities may be for the newbies.
Bitcoin price rally has however witnessed many decisive phases similar to that of the current one. Yet it has rebounded effortlessly and rallied further. The BTC price at the time of writing is $32,922 with a dip of nearly 8.19%, but a major rebound is waiting ahead.
Source: Read Full Article