Bitcoin's latest slump shows why people should be cautious before investing in cryptocurrency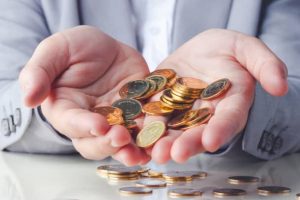 In the last few weeks, bitcoin has been on a wild ride, surging to record highs and then wiping hundreds of billions of dollars from the cryptocurrency market days later.
The volatility shows why curious investors should pause before putting money into the cryptocurrency.
Bitcoin had an epic runup early in 2021. The asset hit a record high of $41,973 on Jan. 12, according to data from Coin Metrics, but just days later fell about 15%, wiping as much as $200 billion from the cryptocurrency market in just 24 hours.
The next week, it regained some of its losses, surging to near $40,000 before reversing course yet again. On Thursday, the cryptocurrency slipped about 8%, bringing the asset's two-day losses to more than 10%. In addition, the price of bitcoin fell below $32,000 for the first time since Jan. 11.
The slump wiped another $100 billion from the total cryptocurrency market in 48 hours.
The extreme movements up and down are relatively common for bitcoin and are expected to continue.
"The only thing I can expect for sure is volatility," said David Yermack, a professor of finance at New York University Stern School of Business. "From day one, this has been a risky investment for people."
More from Invest in You:
Mother's budget game plan: freeze non-essential spending for January
Here's how to make that financial New Year's resolution a reality
Can't afford an estate plan? What you can do without spending a fortune
Bitcoin has seen both astronomical growth over the last decade and major selloffs at various points in between. Although many bulls point to its past performance as a sign that the cryptocurrency will continue to surge in the future, that might not happen, according to Yermack.
"It's a purely speculative asset," he said, adding that while bitcoin has grown in popularity, it's still not considered a mainstream investment, meaning that many have little information about the asset.
"You should never invest in anything that you don't understand," said Yermack.
Only invest what you're willing to lose
Financial experts generally advise that people looking to invest in bitcoin allocate a small amount of their portfolio that they'd be okay with losing entirely. The U.K.'s Financial Conduct Authority just issued a similar warning.
"People should only invest really what they're willing to lose," said Daniel Polotsky, CEO of CoinFlip, one of the largest bitcoin ATM companies in the U.S.
People near retirement, those who will need the money they're investing near term or people who are looking to trade frequently to make a profit may want to reconsider bitcoin as an asset for those goals, he said.
"Maybe there are opportunities to make money because it's so volatile, but it can get very addicting very quickly to start trading back and forth," he said. "And, most of the people that do that lose money."
If you are going to assign part of your portfolio to a speculative asset like bitcoin, take a disciplined approach and impose rules for buying and selling, said David Sacco, an economics professor at the University of New Haven.
"You can get experience and not blow yourself up in the process," he said.
There are also potential ways to invest in the idea of cryptocurrency without putting money directly into an asset as volatile as bitcoin, according to Yermack. That could mean investing in large technology companies utilizing Blockchain such as IBM or media companies with their own digital currencies, such as Facebook.
In addition, Coinbase, the largest U.S. cryptocurrency exchange, recently filed for an initial public offering, meaning it could be available to retail traders in the future.
Buy for the long-term
To be sure, there are many bulls who see bitcoin exploding in value in the future as adoption continues and more large institutional investors buy cryptocurrency.
To those determined to hold bitcoin for the long run, the most recent selloff is not a huge concern.
"This is definitely to be expected," said Polotsky, adding that he expects bitcoin to continue to climb in the future and sees the recent dip as a potential buying opportunity.
"I think today we saw some profit taking investors liquidating, but if you're a bitcoin bull and you have a long-time preference, you know that corrections are normal," said Harry Alford, co-founder of Humble Ventures, on "Squawk on the Street" Monday.
He's not fazed by the recent selloff, he added, and believes that cryptocurrency can lead to financial freedom for Black Americans or other groups. "We're going to see a lot of skepticism turn into curiosity," he said.
Those who want to invest in bitcoin should assess where they stand with other personal finance and investing goals to determine if they have some extra money to put into a risky asset.
If you do, then it's fine to put some money in bitcoin, and to buy on a day when it's down, said Anjali Jariwala, a certified financial planner and CPA and founder of Fit Advisors in Torrance, California.
"Throw some money into it and kind of let it stay in there and season for a while," she said. "Just so you're not making decisions every time there's a fluctuation in price, which at this point happens every few days."
SIGN UP: Money 101 is an 8-week learning course to financial freedom, delivered weekly to your inbox.
CHECK OUT: How much money you need to save per paycheck to max out your IRA in 2021 and reach three other big New Year's resolutions via Grow with Acorns+CNBC.
Disclosure: NBCUniversal and Comcast Ventures are investors in Acorns.
Source: Read Full Article