Capital Manager: Ethereum Will Double In Two Weeks Once ATH Is Broken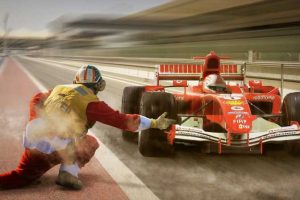 Ethereum beat even Bitcoin in terms of overall gains in 2020, but the altcoin still hasn't broken its former all-time high, while Bitcoin has since left its record far behind.
However, according to one crypto capital manager, as soon as Ethereum does take out its former peak, the altcoin will "double" within "two weeks." Here's what that might look like if the top-ranked altcoin follows in the footsteps of the top-ranked cryptocurrency overall.
Ethereum Bulls Salivate Over Record-Breaking Surge, But ATH Has Yet To Be Touched
In 2017, both Bitcoin and Ethereum enjoyed a thunderous rise together, capturing the lion's share of the cryptocurrency market capital.
Bitcoin as the top asset and first mover carried the industry on its back, while Ethereum acted as the foundation for which the future of the industry was being built.
Related Reading | Entrepreneur Calls Ethereum Silver To Bitcoin As Digital Gold, Not Litecoin
Many of the first projects born at that time, were useless, since abandoned, or outright scams. But those that survived the freezing crypto winter and thaw, are now heating up again also.
DeFi projects built on Ethereum are once again showing the value the altcoin and its underlying network have, but thus far, momentum hasn't pushed the asset to a new all-time high like it has Bitcoin.
You remember how $BTC pumped from 20k to 40k in just 3 weeks once it broke its ATH?$ETH will pump from 1.4k to 3k in less than 2 weeks once its ATH is broken imo.
In addition, the whole alt market will be the double digit gains every day.
— Simon Dedic (@scoinaldo) January 14, 2021
But that won't last for long, according to Moonrock Capital Managing Partner Simon Dedic. Dedic claims that like Bitcoin, as soon as bulls manage to breach the former high set at $1,400, the cryptocurrency will "double" in less than "two weeks" to over $3,000.
Here's what Ethereum doubling in price in two weeks would look like | Source: ETHUSD on TradingView.com
Here's Ether's Path To Doubled Prices In Less Than Two Weeks
A move of that size might sound implausible after the asset has spent three full years trading below the former high, but the FOMO that arrived once Bitcoin bypassed its former peak is the only example necessary. Options contracts on the altcoin reaching over $10,000 at the end of 2021 also bode well for the trending asset.
The chart above shows what such a breakout might look like, with Ethereum surging past its former peak and doubling to around $3,000 in a flash. Bitcoin price action placed behind ETHUSD could provide clues to the trajectory the altcoin could take.
Related Reading | Ethereum Options Contract Hints At The Altcoin Closing 2021 Over $10K
Failure to break past the asset's former all-time high here, could be disastrous, and it would allow Bitcoin dominance to continue to favor BTC over alts for the foreseeable future.
And because so many altcoins are built on Ethereum, all eyes are on the top altcoin to see if it can carry the rest of the asset class back to former all-time highs, or if they continue to live under Bitcoin's reign.
Source: Read Full Article