Celebs and crypto in 2020: Blockchain cities, Bitcoin newbies and Twitter trolling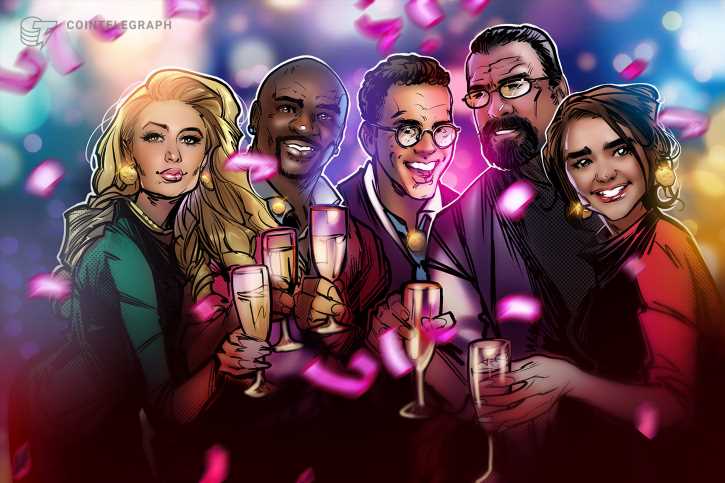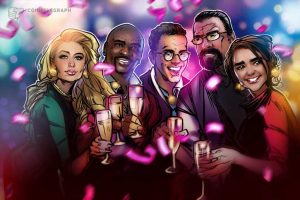 Celebrities have long been used to promote brands, products and services to varying degrees of success, and the cryptocurrency space has been no exception to this practice. In years gone by, the biggest names in the world of entertainment have made waves in the crypto space for endorsing or investing in projects, tokens and companies. Some have stayed, others have gone and a few have ended up in hot water for their forays into the crypto cauldron.
2020 has also seen a number of celebrities from different walks of life enter the fray, and as per usual, the cryptocurrency community has been abuzz about the newcomers and their involvement. So, let's take a look at the most notable celebrities who have joined, those who have left, and those who showed increased interest in the cryptocurrency ecosystem in 2020.
Akon: Visions of an African crypto-powered city
Senegalese-American music star Akon is adored around the world not only for his chart-topping hits but also for his philanthropic and entrepreneurial work over the years. His Lighting Africa initiative has helped provide solar power energy solutions to 28 countries on the continent, and he's also become a proponent for the use of cryptocurrencies and blockchain technology.
In 2018, Akon revealed plans to launch a cryptocurrency called Akoin that will become the native currency of a futuristic city that he envisions building in his home country of Senegal. Fast forward a couple of years, and these plans were finally fleshed out and released to the public.
Akon City is set to be a $6 billion cryptocurrency-powered city built on 2,000 acres of land that was reportedly given to him as a gift by Senegal's president, Macky Sall. The city will be located near the Senegalese capital of Dakar.
The first phase of construction of Akon City is expected to begin in the next few months and is touted to be completed by the end of 2023, with a construction contract having already been awarded to an American engineering firm.
Primary infrastructure including roads, waste services and a solar power plant will be built in the first phase alongside a hospital campus, a mall, residential accommodations, hotels and a police station. In addition, parks, a sports stadium, an industrial complex and a university have been earmarked for construction in phase one as well. The city will also be largely dependent on renewable solar energy.
As the project's white paper details, the second phase of development is expected to take place over five years, from 2024 to 2029, and will culminate in the completion of Akon City and its running solely on an economy powered by the Akoin cryptocurrency and ecosystem.
While Akon City may only become a living, breathing, crypto-powered city in 2030, Akon's vision and ability to launch the plan into action in 2020 has certainly earned him a place on this list.
Game of Thrones' Maisie Williams woos Bitcoin community
The final season of Game of Thrones may have left many fans feeling underwhelmed, but its characters and their real-life actors have become beloved by many around the world. Maisie Williams, who plays the diminutive but deadly Arya Stark in the TV series, is another celebrity who joined the crypto community in 2020.
In November, Williams took to Twitter to ask her 2.7 million followers if she should "go long on bitcoin" in a poll that garnered over 900,000 votes, 3,400 retweets, 3,700 comments and 16,000 likes.
While the tally of the votes as of the end of December resulted in 53% of voters saying "no," a swathe of influential figures from the world of cryptocurrency, blockchain and beyond added their two cents to the post.
Renowned crypto podcast host Peter McCormack gave Williams a very maximalist response in his comment saying "Bitcoin and nothing else," while Barry Silbert made reference to the deadly affliction known as "greyscale" in Game of Thrones when he suggested Williams explore investing through Grayscale's digital-asset trusts.
At the end of the day, Williams made up her own mind and "bought some anyway." Arya Stark always did her own thing.
Paris Hilton, artiste extraordinaire
Paris Hilton is an American celebrity, actress, model, reality TV star, DJ and singer who has also become a renowned entrepreneur through various retail ventures.
In 2017, Hilton made a small foray into the cryptocurrency space during the height of the initial coin offering frenzy. In a now-deleted series of Twitter posts, Hilton expressed her interest in the ICO of LydianCoin, which later became embroiled in serious legal battles.
Hilton later distanced herself from the project after its founder was convicted of domestic violence and battery, and she seemingly walked away from the world of crypto — until 2020, that is.
In August, Hilton made headlines after announcing that she had sold a digital art piece of her cat, Munchkin, for a total of 40 Ether (ETH), which was worth around $17,000 at the time. Hilton's digital painting was sold on an Ethereum-based auction platform called Cryptograph.
Hilton pledged the proceeds of the auction to three United States-based charities: the Los Angeles Regional Food Bank, Meals On Wheels and Backpack Bed for Homeless.
Rapper Logic's "YOLO" Bitcoin buy
Following in the footsteps of Williams, American rapper Logic was also bitten by the Bitcoin bug recently. In a short video posted to his Instagram story on Nov. 20, Logic said that he'd bought $6 million worth of Bitcoin (BTC) in October, before saying YOLO — you only live once.
While it's hard to tell if the 30-year-old rapper, who recently signed an exclusive deal with streaming platform Twitch, was being serious, his big-money move would have appreciated dramatically in the month since he bought Bitcoin.
Logic's Bitcoin acquisition would have snapped up 433 BTC at a price of around $13,850. Fast forward one month to Dec. 20, and his Bitcoin holdings would be worth in excess of $9 million if he kept on hodling.
SEC makes an example of Steven Seagal
While a few notable celebrities have either entered the cryptocurrency space or made some meaningful contributions, a couple have exited the environment in unceremonious circumstances.
American actor Steven Seagal aligned himself with a questionable cryptocurrency project in 2018 called Bitcoiin2Gen, which at the time claimed to be a "superior" version of Bitcoin. Seagal came on board as a brand ambassador for the project's ICO, a move that would eventually land him in serious trouble with the U.S. Securities and Exchange Commission.
Seagal's deal saw him promote the Bitcoiin2Gen ICO on his social media channels for a number of months, in exchange for $250,000 in cash and $750,000 in B2G tokens. The project caught the attention of state-level regulators and received cease-and-desist orders, while Seagal ended up being a major target of legal proceedings by the SEC.
In February, Seagal was ordered to pay back the compensation he'd received from Bitcoiin2Gen. According to documents filed with the SEC, Seagal maintained that he only received $157,000 from his promotional deal. The actor eventually agreed to settle the charges with the SEC, paying $330,000 to the commission.
The SEC once again warned celebrities that they were bound by law to disclose any compensation received for using their social media platforms to promote securities.
Genuine curiosity or straight-up trolling?
2020 also saw a couple of additional big-name celebrities exploring the world of cryptocurrencies through the use of their social media platforms, although they may well have been trolling the ever-zealous crypto-faithful.
J. K. Rowling, world-renowned author of the Harry Potter series, took to Twitter in May to ask what she probably assumed was a simple question about Bitcoin in a thread with cryptocurrency journalist Leigh Cuen.
Much like Williams' situation, Rowling's question caught the attention of the entire cryptosphere, with the likes of Ethereum co-founder Vitalik Buterin, crypto author Saifedean Ammous, podcaster Laura Shin and even Elon Musk getting in on the discussion.
The debate went on for days, while Rowling continually said that she still had not grasped how the cryptocurrency worked. The author was so inundated with responses that she eventually tweeted a day later that she might not ever be able to log back onto the social media platform without being derided for not owning Bitcoin. The hilarious incident and subsequent response from the cryptocurrency community is a reminder of the influence that celebrities can have on the space.
Rowling was not the only major celebrity to get Crypto Twitter riled up in 2020. Enter Musk, CEO of Tesla and founder of SpaceX. He's been known to jump onto Twitter from time to time and stir the pot with cryptic Tweets about the crypto space.
Twice this year, Musk caused the price of Dogecoin (DOGE) to surge in value by simply mentioning its name in tweets. The latest incident happened in December as Musk "trolled" Bitcoin, describing it as "almost as bs [bullshit] as fiat money" before posting a short tweet reading: "One word: Doge."
The tweet saw the price of Dogecoin appreciate by 25% as the cryptocurrency began to trend on the platform. The thread of tweets also drew the attention of influential figures in the world of crypto.
Business intelligence firm MicroStrategy's CEO, Michael Saylor, joined the conversation and offered to share his own Bitcoin acquisition strategy with Musk. MicroStrategy has bought more than $1 billion worth of BTC in 2020, having adopted the cryptocurrency as its primary treasury reserve asset. He stated:
"If you want to do your shareholders a $100 billion favor, convert the $TSLA balance sheet from USD to #BTC. Other firms on the S&P 500 would follow your lead & in time it would grow to become a $1 trillion favor."
Musk replied asking if "such large transactions" were even possible, before Saylor offered to share his "playbook" offline with Musk "from one rocket scientist to another." The MicroStrategy CEO holds dual degrees from MIT in aeronautics and astronautics, and in science, technology and society. So, let's just hope that these two bright minds did actually slide into each other's DMs to compare notes on all things crypto.
Source: Read Full Article