Coinbase Opens Shop in India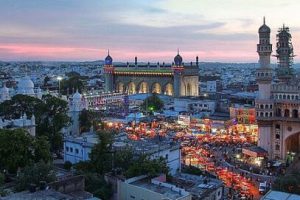 Coinbase has opened an office in India in Hyderabad (pictured), a tech center, with Coinbase planning to hire from all over the country based on a remote-first strategy.
"We will have teams in all major areas Coinbase works in today — infrastructure, cloud, platform, payments, crypto, blockchains, data engineering, machine learning, growth, product engineering — to name just a few.
These teams in India will be led by local engineering directors, who will have large, independent and autonomous charters," said Pankaj Gupta, the VP of Engineering and Site Lead in India.
They plan to open more offices in key cities "to have a hybrid, flexible environment" with the company further exploring startup acquisitions and acquihires.
"We have ambitious plans for this hub in the near future — we want to hire hundreds of world class engineers in the near term," Gupta said.
Making this the biggest expansion of Coinbase since it set up its European offices in London which were then moved to Ireland.
For Asia, Coinbase seems to have chosen India as its base, a country that has seen significant growth in crypto adoption especially this year.
Although the regulatory situation there has still not reached full clarity, there are suggestions the country is moving towards adopting the European and American framework in potentially declaring cryptos as an asset class.
That would give the greenlight to this new industry, with established global crypto companies already scouring the country for suitable environments.
As a tech rich nation of 1.36 billion, that may open vast new opportunities both for this industry and for global relations between the west and English speaking democratic India which seems to be fundamentally governed by the rule of law.
With this Coinbase office and expansion potentially being just the first in a new chapter that may as well be titled: Out with China, in with India.
Source: Read Full Article