Crypto Biz: Did crypto winter scare off Visa and Mastercard?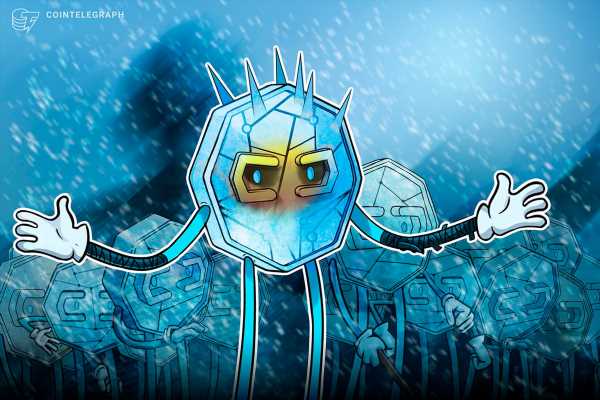 Crypto cycles aren't for the faint-hearted. As the industry continues to evolve from the cypherpunks into the mainstream, we can expect a lot of growing pains. The dumpster fire that was 2022 may have scared off many companies interested in exploring the sector. Case in point: Visa and Mastercard's embrace of crypto may have hit a snag thanks to the bear market and unclear regulations.
According to a new report by Reuters, the credit card giants are halting the launch of certain crypto products until market conditions and the regulatory environment improve. Cuy Sheffield, who heads Visa's crypto division, wasn't pleased with the report, reassuring the market that Visa is very much committed to seeing through its crypto ambitions.
This week's Crypto Biz explores the latest reports around Visa and Mastercard, Jack Dorsey's decentralized Twitter alternative, and Goldman Sachs' apparent need for more digital asset professionals.
Breaking: Visa and Mastercard halt new crypto partnerships — Report
Credit card giants Visa and Mastercard will delay the launch of new crypto partnerships due to the bear market and murky regulatory conditions, according to a Feb. 28 report by Reuters. The companies are hesitant to launch new crypto partnerships following high-profile bankruptcies in the sector, like FTX, BlockFi, Celsius, Voyager, Genesis etc. "Recent high-profile failures in the crypto sector are an important reminder that we have a long way to go before crypto becomes a part of mainstream payments and financial services," a Visa spokesperson said. However, Visa's crypto head later clarified that the company continues to "partner with crypto companies to improve fiat on and off-ramps."
Jack Dorsey's decentralized Twitter rival enters app store
Jack Dorsey is embracing decentralized social networks with the private beta launch of Bluesky — a so-called decentralized Twitter alternative. Bluesky hit Apple's app store as an invite-only app, allowing key persons to try out the new platform. An early peek at Bluesky reveals an interface that very much resembles Twitter. The major difference between the two is that Bluesky claims to be "decentralized," which means it operates on independently run servers rather than centralized servers controlled by a single entity. It's not entirely clear if Bluesky will have Bitcoin (BTC) integration, something Dorsey feels very strongly about. In June 2022, Cointelegraph reported that Dorsey was building "Web5" powered by Bitcoin.
Goldman Sachs still open to crypto hires amid massive 3,200 staff cut
Watch what they do, not what they say. Amid continued layoffs in the digital asset sector, multinational investment bank Goldman Sachs has not closed the door on hiring more crypto professionals. According to Goldman's digital asset lead Matthew McDermott, the bank remains "hugely positive" on exploring blockchain applications, which may require more hires. Goldman Sachs' digital asset unit currently has 70 people and likely won't be affected by the bank's job cuts. It feels like only yesterday that Goldman Sachs was hyper-critical of crypto. Now, it's fully embracing the sector and its innovative potential.
Coinbase CEO reiterates that 'staking' products aren't securities
Last week, Crypto Biz told you that Coinbase has a lot at stake. This week, CEO Brian Armstrong reiterated that Coinbase's staking products do not constitute securities and should not fall under the United States Securities and Exchange Commission's (SEC) enforcement action. "[We] really just are providing a service that passes through those coins to help them participate in staking, which is a decentralized protocol," he said, referring to the exchange's staking products. The SEC has already thrown the book at crypto exchange Kraken for its staking services. Will the regulator buy Coinbase's argument? Only time will tell.
Before you go: Is Binance in trouble?
It's hard to get positive mainstream coverage of crypto these days. This week, Binance CEO Changpeng Zhao responded to a scathing article about his exchange's business practices. Meanwhile, the Solana network experienced yet another outage. This week's Market Report breaks down the FUD around Binance, and discusses what's potentially in store for Solana. You can watch the full replay below:
https://www.youtube.com/embed/HCWJ_J6n89A
Crypto Biz is your weekly pulse of the business behind blockchain and crypto, delivered directly to your inbox every Thursday.
Source: Read Full Article