Crypto Exchange Bakkt Plans Public Listing with SPAC Merger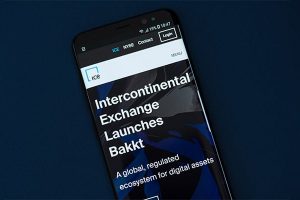 US-based cryptocurrency exchange, Bakkt is planning for a public listing with a merger with blank-check acquisition firm VPC Impact Acquisition Holdings, and the two companies are already in advanced talks, Bloomberg reported on Friday.
Founded in 2018 Bakkt is owned by New York Stock Exchange (NYSE) parent Intercontinental Exchange (ICE). According to anonymous 'people with knowledge of the matter,' the two entities are looking at a valuation of more than $2 billion if the merger deal goes through.
Though neither of these companies confirmed the deal, an official announcement is expected by next week.
Crypto Companies Approaching Mainstream Market
Bakkt is well-known for offering regulated cryptocurrency derivatives in the United States. Started with Bitcoin-settled futures in late 2019, the exchange has expanded its product line by adding many other crypto derivatives products, including options.
With a valuation of over $1 billion, Bakkt raised over $482 million over the years from investors like Microsoft, Pantera, PayU, and a few others. It closed its last financing round in March last year after raising $300 million.
The crypto exchange also acquired loyalty program provider Bridge2 Solutions last year to sweeten its offering for merchants and institutions.
Meanwhile, going public with a special purpose acquisition company or SPAC merger has gained a lot of popularity last year as private companies are looking at this as an easy route to go public. $73 billion out of the total $140 billion in new US listings were raised by SPAC last year, according to Goldman Sachs data.
Finance Magnates earlier today reported on SoFi's upcoming merger with a similar blank-check company.
VPC, the company with which Bakkt is considering a merger, is an affiliate of Victory Park Capital and raised around $200 million in its initial public offering (IPO) last September.
Source: Read Full Article