Crypto vs SEC: Is the SEC Threatening Digital Assets? Lawmakers Demand Withdrawal of Custodial Proposal – Coinpedia Fintech News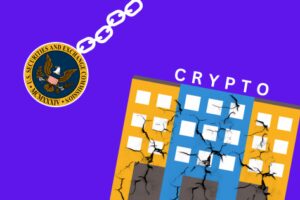 Lawmakers from the House Financial Services Committee are urging the Securities and Exchange Commission (SEC) to withdraw its proposed rule that would increase the cost of custodial services for registered investment advisors (RIAs). The lawmakers, including Committee Chairman Patrick McHenry and Subcommittee Chairman French Hill, argue that the rule goes against established practices and exceeds the SEC's authority.
Concerns Over Increased Costs
One major concern raised by the lawmakers is the potential rise in costs associated with custodial services due to the proposed rule. They criticize the SEC for failing to provide a comprehensive economic analysis, which they believe shows a reckless approach to rulemaking. The lawmakers are demanding the SEC to reconsider its stance and withdraw the proposed rule.
Also Read – Crypto Vs SEC Heats up: Coinbase CLO Exposes Flaws In SEC's Crypto Custody Proposal; What Next?
Is This Beyond The SEC?
Another point of contention is the rule's scope, which extends beyond the SEC's statutory mandate. While the Dodd-Frank Act granted the SEC authority to ensure the safeguarding of client assets for RIAs within its jurisdiction, the proposed rule covers all types of assets, including unconventional ones. Lawmakers argue that this overreach undermines the authority of other regulators and imposes additional custody regulations on entities already regulated elsewhere.
Impact on the Digital Asset Market
The lawmakers also highlight the impact on the digital asset market, where finding banks willing to provide custodial services is already challenging. They express concern over a proposal to limit qualified custodians to federally chartered entities, which they believe would stifle competition and favor established players in the banking sector.
SEC Slammed
Furthermore, the lawmakers criticize the SEC for not considering the implications of the proposed rule on the interaction with Staff Accounting Bulletin (SAB) 121. They argue that the combined rules would burden custodian banks by requiring full indemnification of digital assets, holding them on balance sheets, and capitalizing against them. This onerous requirement could deter larger custodians, including public company banks, from offering custody services for digital assets.
The lawmakers call on the SEC to withdraw the proposed rule, emphasizing the need for the SEC to stay within its jurisdictional boundaries, conduct a thorough economic analysis, and consider the interconnectedness of its rulemaking. The outcome of this debate will have significant consequences for the regulation of custodial services and digital assets in the United States.
Source: Read Full Article