DeFi Breaks Record as Investors Lock Up $17 Billion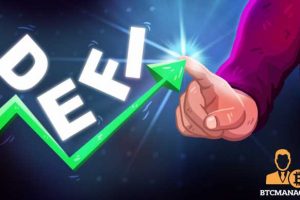 At its current price of about $32,470, 2020 saw bitcoin march to all-time highs and a gain of around 300%. However, Bitcoin is not the only crypto project doing well. Today, the total value locked in the decentralized finance (DeFi) industry hit $17 billion, according to DeFi Pulse stats. 
DeFi Projects, A Huge Contribution 
DeFi has been an overwhelming headline of 2020 in the cryptocurrency space as a non-custodial financial product (primarily based on Ethereum) looking to enhance lending and borrowing services. The locked total value shows how much money is in their smart contract.
DeFi first caused a stir when there was a pivotal phase in February last year. When the cumulative value of all the tokens locked in its apps reached over $ \1 billion, it became clear that the step ignited the fire.
Although there have been several setbacks since the March selloff that left the market untouched, DeFi has grown exponentially, and investor attention on how to earn interest on crypto assets has never been greater.
Billions of dollars have been poured into DeFi projects to boost growth. The most significant projects in space today are three lending protocols: Maker, Aave, and Compound. They have $ \3 billion, $2.08 billion, and $ 2.07 billion, respectively.
The Maker has nearly 20% market dominance (the percentage of a project's market cap accounts for the entire DeFi market.) The price of the project's token, MKR, was today $746.46, according to CoinMarketCap. AAVE and COMP stood at $101.50 and $148.98, respectively. 
The Bubble Is Back
We can say that the digital currency bubble has returned. The new cycle, however, is very different from crypto-mania in 2017. This time, most of the money coming into the market came from companies and institutions, not private investors.
Traditional investment firms are not only investing in well-known digital assets such as Bitcoin and Ether; they have also turned to DeFi for further development of the space. Chicago DeFi Alliance members include hippopotamuses such as TD Ameritrade, CMT Digital, and Arca Labs to support promising DeFi startups and push for better regulation.
In this regard, a significant breakthrough came in July last year when the US Securities and Exchange Commission approved Arca ArCoins digital shares to be traded on the Ethereum blockchain. The SEC allowed cryptocurrency funds to enter the investment market at this stage – a significant step forward in combining traditional funding with investing in digital assets.
Around this time last year, the DeFi industry closed down $ 689 million, a 2,077% increase. At one point in a week, projects brought in one billion dollars to the total value closed in the industry last year.
Interest in the DeFi projects increased because investors made so much money. Investors can make huge profits from yielding, allowing investors to lock in crypto and earn fixed or variable interest.
Source: Read Full Article