During September DBX Will Be Listed on 7 Major Cryptocurrency Exchanges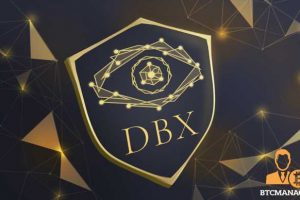 Meet one of the main events of this fall! It is certainly the listing of DBX tokens, entering the global market at the beginning of September.
The long-awaited listing of DBX is planned on 7 most respected exchanges. You can already purchase, sell, or exchange the tokens. Some people have already purchased tokens during the pre-sale and distribution.
Below is the list of crypto exchanges and listing dates:
BitMart (from September 10, 2021) – included in the top 20 largest exchanges
Lbank (from September 15, 2021) – a world-class Chinese exchange
WhiteBit (from September 20, 2021) – a stock exchange registered and licensed in Estonia
Latoken (from September 25, 2021) – platform among the top-20 by turnover since 2019.
Probit (from September 30, 2021) – exchange is ranked among the 20 most influential crypto exchanges in Europe and has won several awards
What is DBX?
DBX is a completely new digital eco-system in a peer-to-peer decentralized financial network. This cryptocurrency has anonymous instant transactions, does not need a central authority or server acting as an intermediary. Everything is done by users independently.
Benefits of DBX
Due to a completely decentralized system, based on keeping records in a distributed blockchain, preventing coin counterfeiting or double-spending, this cryptocurrency is very reliable. In addition, DBX has completely anonymous transactions available per request.
What are the benefits for DBX users?
1) ROI profit. The guaranteed increase in the investor's portfolio from the first day is an advantage that is provided by monthly Masternode savings.
2) Project growth. There is a constant expansion in the ecosystem. The more projects created, the more secure the investments are.
3) Asset growth possibilities. With the help of a digital ecosystem, you can quickly grow your investment portfolio.
4) Risk diversification. DBX grants risk diversification for all investors around the world. It is easy to quit DBX, keeping your fiat currencies safe with tools such as stock markets, real estate, and raw stock.
5) Convenient management. Manage your assets with an e-wallet.
Don't miss the chance to participate in the launch of DBX tokens on major exchanges from September 1 to October 5. Bitforex will be an online service for IEO. https://www.dbx.so
Media Contact:
Company- DBX
Telegram- DBX
Email- [email protected]
Related posts:
Source: Read Full Article