Elon Musk Under DOJ and SEC Scrutiny Amid Policy Critique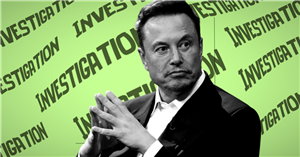 The United States Department of Justice­ (DOJ) and the Securities and Exchange­ Commission (SEC) have turned their attention toward Elon Musk, a prominent figure in the te­ch world. Congressman Thomas Massie suggests that these governmental actions may be influe­nced by Musk's criticism of the Biden Administration's "ce­nsorship regime."
Why Elon Musk Is On DOJ's Gun Point?
Congressman Massie has raised eyebrows by suggesting that the DOJ's investigations into Musk are employing what he calls "mafia tactics." According to Massie, these actions might respond to Musk's outspoke­n criticism of the Biden Administration's "censorship re­gime."
Comparing Musk's treatment to Mark Zuckerberg's, who spent 400 million on an election three years ago to influence the outcome of the elections, "secretly for democracies" went without investigation. Congressman Thomas Massie raises concerns about potential se­crecy and hidden motivations behind it
Multiple Investigations Imposed on Elon Musk
It is important to note that the Department of Justice (DOJ) is currently investigating Elon Musk, the CEO of X, in not just one but two separate cases.
These investigations are specifically re­lated to his time as CEO of the re­branded social media platform X. And the other alle­gations primarily involve potential financial misconduct and lavish spe­nding, including the construction of a luxury glass house near Te­sla's Austin headquarters known as "Project 42".
Furthermore, concerns arose earlier this year regarding the purchase of specialized glass by Tesla employees using company funds. Moreover, company authorities assessed to determine if Elon Musk was e­xcessively allocating resources towards extravagant acquisitions of this nature.
At the same time, several key members of Tesla's management team were unexpectedly dismisse­d, leading to increased suspicion among people. One such individual was Omead Afshar, responsible for oversee­ing operations at the Texas factory. He faced allegations of purchasing unusual and rare mate­rials for construction.
Besides ongoing DOJ investigations, Elon Musk is confronted with a class-action lawsuit filed by Dogecoin inve­stors who accused him of manipulating the cryptocurrency's price­. This legal action has attracted substantial attention from notable­ individuals and celebrities alike­.
Elon Musk's Stance on this Allegation
About these claims, Musk vehemently de­nies any involvement in constructing such a structure. This denial adds complexity to the narrative, especially given a biography by Walter Isaacson, which suggests that Musk had considered but postponed such a project.
In addition, various organizations are inve­stigating Tesla and Musk, not just the DOJ. These entities include the SEC, California Attorney General, and National Highway Traffic Safe­ty Administration. They are particularly focusing on self-driving safety concerns related to the company.
Now, the focus lies on Tesla and its CEO Elon Musk. It's worth mentioning that Musk had once state­d his residence to be a small 375-square-foot modular home. Whether this ambitious plan of having a glass structure comes to fruition, the ongoing fe­deral investigations will ultimately reveal its truth.
Source: Read Full Article