Ethereum News Catalyst Could Trigger Triangle Breakout To $4,000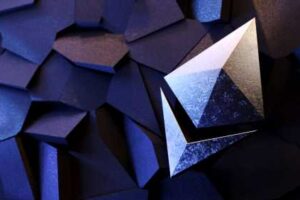 Could bullish Ethereum news related to the launch of an ETH futures ETF be the catalyst that triggers a massive breakout of a nearly 16-month long ascending triangle pattern?
If the pattern is valid, the target is roughly $4,000 per ETH and a revisit to former all-time highs from the last bull market.
VanEck Announces ETH Futures ETF
Global asset manager VanEck, known best for its ETFs and Mutual Funds, today revealed the upcoming launch of the VanEck Ethereum Strategy ETF (ETUF).
ETUF will be "an actively managed ETF designed to seek capital appreciation by investing in Ether (ETH) futures contracts."
Rather than investing in spot ETH, the Fund will trade Chicago Mercantile Exchange (CME) ETH futures, and will be managed by the firm's Head of Active Trading, Greg Krenzer.
ETUF will trade on CBOE alongside VanEck's Bitcoin Strategy ETF (XBTF). And although its inception of November 15, 2021 marked the end of the bull market in crypto, the introduction of Ethereum futures has the potential to kickstart the next bull run.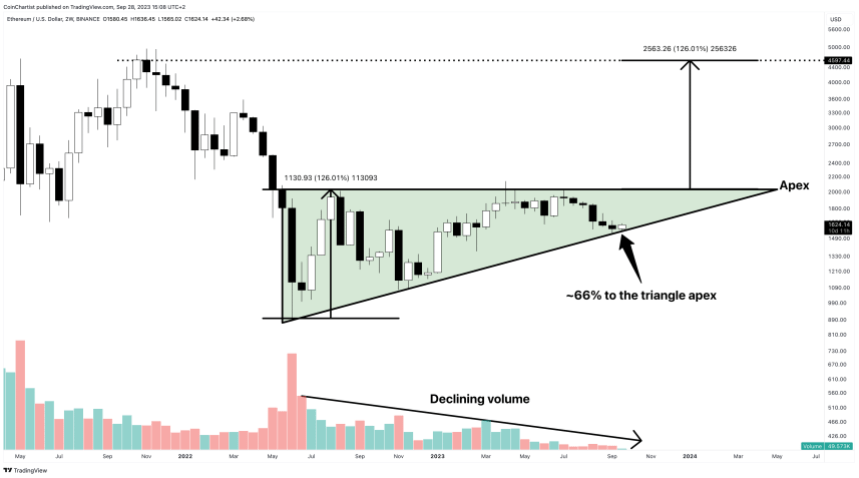 Ether's target is $4,000 based on the measure rule | ETHUSD on TradingView.com
Ethereum News Catalyst Could Trigger Ascending Triangle Breakout
Show me the chart and I'll tell you the news, is a famous quote from the late Bernard Baruch. The message reflects the fact that the largest technical moves tend to coincide with a news catalyst and vice-versa.
Essentially, the a bullish chart pattern could possibly appear before positive news – such as the launch of an ETH futures ETF – while the news itself is the catalyst for a strong breakout.
This is precisely what appears to be brewing in ETHUSD charts since June of 2022. Unlike Bitcoin which put in a bottom late in 2022, Ethereum found support about halfway through the year. Since then, Ether has consistently made higher lows, forming a potential ascending triangle chart pattern.
Now, the ascending triangle pattern is nearing the two-thirds point from its apex. This increases the chances of a breakout occurring as an Ethereum futures ETF gets launched have increased significantly. All that's required is a breakout above $2,000 per ETH on higher than normal volume. Based on the measure rules, reaching the target objective could push prices to over $4,000.
Source: Read Full Article