Grayscale Is In The Process Of Completely Dissolving XRP Trust Following The SEC's Lawsuit Against Ripple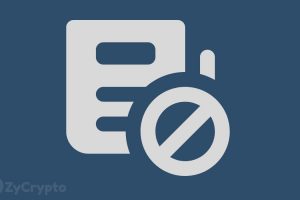 Grayscale, the world's largest digital asset investment company has already started terminating its XRP Trust. This comes a week after the firm liquidated XRP positions from its Digital Large Cap Fund.
According to the official announcement on January 13, this move is in response to the lawsuit brought in December 2020 by the United States Securities and Exchange Commission (SEC) against XRP issuer Ripple, the CEO Brad Garlinghouse, and Executive Chairman Chris Larsen. The agency alleges that the defendant raked in at least $1.3 billion in illegal XRP sales since 2013. Notably, the bulk of the lawsuit indicates that XRP should be regulated as a security in the United States.
This suit has had undesirable effects on the XRP token. Per yesterday's announcement, Grayscale believes that "it is likely to be increasingly difficult for U.S. investors, including the Trust, to convert XRP to U.S. dollars, and therefore continue the Trust's operations."
As such, the company will liquidate all the XRP held by the Trust and distribute the cash proceeds to shareholders. "The Trust will terminate following distribution of the net cash proceeds," Grayscale summarized.
The past couple of weeks have been tough for XRP. Major cryptocurrency exchanges like Binance US, Bitstamp, Coinbase, and OKCoin all suspended trading of the token in the wake of the SEC lawsuit.
Fortunately, the market environment for XRP is less hostile in Asia. Per a Wednesday report by The Block, Japan's Financial Services Agency asserted that it deems XRP a cryptocurrency, not a security — as its U.S. counterpart argues.
XRP is currently the fourth-largest cryptocurrency by market capitalization. The coin has shed 1.06% on the day to trade at around 29 cents.
Despite the SEC-induced damage, XRP was able to bounce back from the $0.17 December lows. This is, however, a far cry from the recent November 2020 high of almost $0.80
Source: Read Full Article