JPMorgan Starts Offering In-House Bitcoin Fund to Private Clients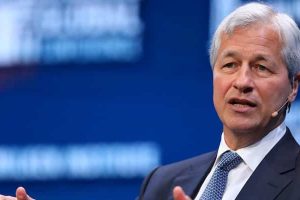 JPMorgan Chase has started to pitch an actively managed Bitcoin fund to its wealthy private banking clients from earlier this week, according to a report by Coindesk.
Though the bank did not confirm anything on the new cryptocurrency product, the crypto-focused publication cited two anonymous sources to confirm the report.
JPMorgan CEO Jamie Dimon remained one of the harsh critics of Bitcoin. He even compared the digital currency to the Dutch tulip bulb bubble and called it a 'fraud'. Though his stance towards Bitcoin did not change, he indicated that his bank's clients are surely interested in investing in crypto.
Rising Institutional Interest
The rumors of the Wall Street giant's intentions to launch an active fund were first floated in April. Moreover, Dimon-led bank's pivot into Bitcoin clearly shows the increased institutional interest in Bitcoin.
According to the latest report, the banking giant has launched the fund in partnership with NYDIG, which will play its role as a Bitcoin custodian. The bank intimated advisors about the fund on Wednesday on a launch call but did not receive any investors as of yet.
JPMorgan is likely to push the fund as the safest and cheapest Bitcoin investment vehicle to its private clients. Additionally, the in-house fund would help the bank if it decides to enter the Bitcoin exchange-traded fund after the regulatory hurdles clear, one of the sources said.
While JPMorgan is entering the place, its competitors have already had prominent crypto exposure. Morgan Stanley and Fidelity are only a few traditional financial players already offering Bitcoin investment products to their clients.
Source: Read Full Article