'New frontier' of crypto laundering involves cross-chain bridges and DEXs: Elliptic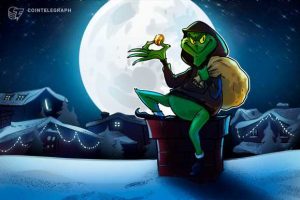 New research from blockchain analytics and crypto compliance firm Elliptic has revealed the extent to which cross-chain bridges and decentralized exchanges (DEXs) have removed barriers for cybercriminals.
In an Oct. 4 report titled "The state of cross-chain crime," Elliptic researchers Eray Arda Akartuna and Thibaud Madelin took a deep dive into what they described as "the new frontier of crypto laundering." The report summarized that the free flow of capital between crypto assets is now more unhindered due to the emergence of new technologies such as bridges and DEXs.
Cybercriminals have been using cross-chain bridges, DEXs, and coin swaps to obfuscate at least $4 billion worth of illicit crypto proceeds since the beginning of 2020, it reported.
Around a third of all stolen crypto, or roughly $1.2 billion, from the incidents surveyed, was swapped using decentralized exchanges.
Delving further into the details, the report noted that more than half of the illicit funds it identified were swapped directly through two DEXs — Curve and Uniswap, with the 1inch aggregator protocol coming a close third.
A similar amount (around $1.2 billion) has been laundered using coin swap services which allow users to swap assets within and across different networks without having an account.
"Many are advertised on Russian cybercrime forums and cater almost exclusively to a criminal audience," it noted.
Sanctioned entities are increasingly turning to such technologies in order to move funds and carry out cyber-attacks, according to Elliptic.
"Wallets connected to groups eventually sanctioned by the United States – including those used by North Korea to perpetrate multi-million-dollar cyberattacks – have laundered more than $1.8 billion through such techniques."
In a June report on virtual asset risks, global money laundering, and terrorist financing watchdog, the Financial Action Task Force (FATF), also fingered cross-chain bridges and "chain hopping" as a high risk.
Related: $2B in crypto stolen from cross-chain bridges this year: Chainalysis
The Ren bridge was mentioned as a top choice for crypto laundering with the vast majority of illicit assets, or more than $540 million, passing through it.
"Ren has become particularly popular with those seeking to launder the proceeds of theft," it said.
One potential solution to mitigate crypto theft was proposed by Stanford researchers last month. It involves an opt-in token standard called ERC-20R that provides the option to reverse a transaction within a set time period.
Source: Read Full Article