Ripple, Binance, FTX, and Coinbase: What will Happen in the Upcoming Crypto Trials Against SEC? – Coinpedia Fintech News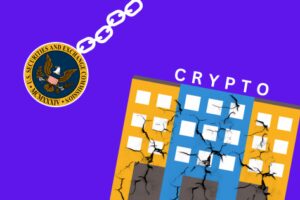 Ron Hammond, representative of the Blockchain Association, recently discussed the upcoming crypto-related hearings and their implications on the industry. In an interview with Thinking Crypto, Hammond spoke about the upcoming trial of Sam Bankman-Fried (SPF), the founder of the FTX exchange. Hammond noted that the trial could create significant noise in DC, drawing attention to the crypto industry and potentially leading to misunderstandings. 
Also Read : SEC to Fast-Track Ethereum Futures ETFs Before Shutdown, Says Bloomberg Analyst
He opened up about the importance of clarifying that SPF's actions were not representative of the entire crypto sector, as this trial is focused on an individual's fraudulent activities rather than the industry.
Hammond briefly discussed the ongoing investigations into Binance by the SEC and the Department of Justice (DOJ). While the SEC's actions have been somewhat blocked recently, Hammond highlighted the looming threat of the DOJ investigation. He emphasized the need for clarity regarding the relationship between Binance US and Binance and the potential regulatory implications.
He said, "The Binance situation as a whole, there's still that looming DOJ investigation that many folks in DC are waiting for that shoe to drop. Again, there are various rumors of why that DOJ lawsuit hasn't dropped. There have been confirmation reports of potential sanction evasion violations and money laundering violations by Binance, of the parent company, not Binance US."
Upcoming Crypto-Related Hearings
As for upcoming hearings, Hammond mentioned that the focus would likely be on Senate Banking, which had only held one central crypto hearing thus far in the year. The Senate Banking Committee's increased attention to AI and tech issues could lead to more discussions about cryptocurrency.
In the House, attention will be on votes related to the stablecoin bill and market structure. Taxation issues are also becoming increasingly important, with Senate Finance seeking input from the industry on how cryptocurrency should be taxed.
Also read : Blackrock, Fidelity, and Grayscale Bitcoin ETFs Hang in Balance at Congressional Hearing Crypto Market Awaits Possible Turning Point
https://youtube.com/watch?v=0CFgZDfeK1o%3Ffeature%3Doembed
Source:
Read Full Article