Ripple Mulls Making Key Acquisitions in Crypto-Friendly Countries — Can It Boost XRP To $1?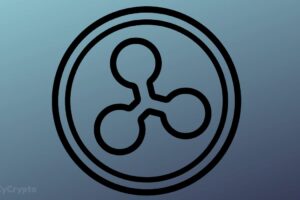 Prominent blockchain-based payment solutions company, Ripple, is contemplating making strategic acquisitions in crypto-friendly countries in a bid to expand its business model.
Ripple CEO Brad Garlinghouse unveiled this information during a live interview at last week's Dubai Fintech Summit. In his remarks, the Ripple boss noted that Ripple's aspirations go beyond its existing emphasis on cross-border payments for businesses and encompass various other aspects of the blockchain technology sector.
"What I think will be next is certainly something Ripple thinks about. We started with enterprise-based cross-border payments. We talked about there being four primitive pieces to blockchain-based technologies; liquidity, compliance, custody and tokenization. Ripple aspires to be more than just that…I think you'd expect that we will expand into some of those other areas either organically or through acquisitions," said Garlinghouse.
The CEO then emphasized the significance of operating in countries that support blockchain technologies, citing the United Arab Emirates (UAE) and Switzerland as prime examples of nations that offer an encouraging environment for entrepreneurs in the crypto space.
"I think we will look at making acquisitions in markets that are friendly to these technologies," he said, adding "In the previous panel, you had representations from UAE, Switzerland. These are countries that are providing the clarity for entrepreneurs to invest and that allows a company like Ripple that is larger."
Furthermore, to back his statements, Garlinghouse disclosed that Ripple had over $1 billion in cash reserves positioned to be allocated towards the said strategic acquisitions.
"We have more than $1 billion of cash on our balance sheet. We want to deploy that to grow both organically and also inorganically through acquisition," he went on.
Garlinghouse's remarks came amid heightened concerns over the regulatory environment in the United States. During the interview, he expressed his frustration at the US, stating that the country is falling behind significantly due to the prioritization of politics over policy.
According to him, investment and growth potential in blockchain technologies risked being pursued outside the United States of America due to the country's apparent anti-crypto ideologies.
He went on to state that Ripple expects to spend approximately $200 million defending itself against the ongoing lawsuit with the U.S. Securities and Exchange Commission (SEC), asserting that the case lacks a solid foundation.
That said, despite the difficulties encountered in the United States, Ripple's ambitions for expansion, which include the possibility of acquiring companies in crypto-friendly regions, have the potential to establish the company as a frontrunner in the global blockchain industry.
This strategic move would boost the utilization of Ripple's ecosystem and ultimately drive the value of XRP towards the coveted $1 price level. At press time, the cryptocurrency was trading at $0.4672, up 3.39% in the past 24 hours.
Source: Read Full Article