Saxo Bank Onboards Claudius Sutter to Its Board of Directors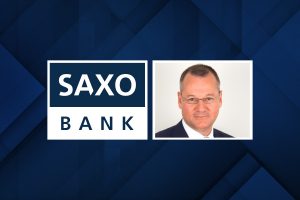 Saxo Bank Switzerland has onboarded Claudius Sutter as a new member of its Board of Directors, effective November 2021.
Finance Magnates recently identified on Linkedin that Claudius Sutter, an executive veteran with almost four decades of experience in finance, has been selected by Saxo Bank Switzerland, a division of the retail bank HSBC, to be a new member of the Board of Directors.
Sutter brings a wealth of experience of close to forty years working in the finance industry. He has proven experience in developing businesses to be more effective, managing transformation, wealth management and more.
Concurrently, Sutter serves as a Board Member at MovementSciences Inc. – Delivering Movement for Life. He is also the Founder of C. Sutter Consulting, which began in March 2020.
Glancing Back at Sutter's Vocational History
Prior to Sutter's current roles, UBS benefitted for thirty-seven years from his contributions. He has held a total of seven separate positions within the organisation, the most recent being Managing Director. Over the last five years at the Swiss Bank, he developed the first UBS fully Digital Wealth Manager branded UBS SmartWealth launched in the United Kingdom. This coincided, with the responsibility for the UBS Wealth Management Advisory Process & Product Offering among other duties.
Before that, he served as the COO of the Chief Investment Office from 2012 until he received the promotion to MD. Also, he took charge as the COO of Investment Products & Services. Between 2010 and 2012, he restructured the Product Engine of UBS Wealth Management as part of his functions.
Earlier, he worked in the Business Strategy Consulting division and conducted an analysis of UBS Corporate Structure. Moreover, to took charge of the restructuring of Finance, Legal, HR, Operations & IT to build a new UBS Corporate Center and more.
Other roles he succeeded in include COO UBS Investment Bank Europe, Middle-East, Africa and Switzerland; COO Investment Bank Switzerland as well as various other functions in Corporate Banking, FX Sales, E-Commerce, Product Management Logistics and IT since 1983.
He has a solid educational background from the University of California, Berkeley, Haas School of Business. He received a Masters degree in Business Administration (M.B.A.) in the Field Of Change Management. Furthermore, at the University of St.Gallen, he was awarded a Masters of Business Engineering & an MBA in Business Engineering/Change Management in the same time frame.
Source: Read Full Article