SEC Might Ban Crypto Staking, Speculates Coinbase CEO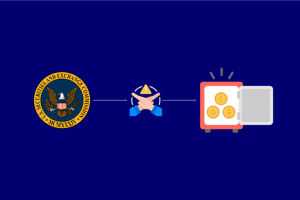 Coinbase CEO Brian Armstrong claims SEC might ban Crypto staking

The SEC officials denies to comment on the rumor
The relation between the US Securities and Exchange Commission (SEC) and the cryptocurrency industry has always been on a bumpy road. This is because the SEC has always bought one-at-a-time enforcement actions to regulate crypto instead of formal rulemaking. The SEC has gained major backlash with its current lawsuit in Ripple vs SEC case.
The latest news that has been making rounds in the crypto space is the SEC looking for ways to ban crypto staking for Retail users. Staking is nothing but locking a certain amount of cryptocurrencies and earning interest for the deposit.
The same news was shared by Coinbase CEO Brian Armstrong who claimed that there are speculations of SEC banning Crypto staking. He then says that if the SEC bans staking, the crypto market will experience a major pull back.
SEC Denies To Comment Any
This rumor emerged following Gary Gensler's earlier statement which said that Cryptocurrencies that allow staking might be classified as securities under Howey test. On the other hand, Brian Armsrong believes that staking is an important innovation of crypto which allows users to participate directly in the crypto network.
However, the SEC has denied to comment and also there isn't any official announcement made to clarify the rumors.
Meanwhile, even Coinbase is fighting against the SEC in terms of staking. In August 2022, the Coinbase had claimed that the SEC issued notice for offering staking service. Furthermore, former Coinbase product manager, Ishan Wahi and his brother Nikhil Wahi have been accused of insider trading and allegedly purchasing nearly 25 cryptocurrencies before they got listed.
Source: Read Full Article