Solana Bulls Eying Super Bullish Breakout To $100 SOL Price As Cathie Wood Sings Its Praises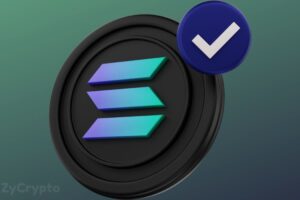 The CEO of Ark Invest has made an extremely bullish statement about Solana (SOL) amid a notable upsurge in the asset's price.
Cathie Wood, the CEO of Ark Invest, a leading investment management firm, seems to have stirred up the altcoin market, particularly igniting SOL bulls to kick off a bullish rally.
In a recent interview with CNBC Squawk Box, interviewers posed a question centring on Bitcoin's dominance in the cryptocurrency and blockchain markets. The interviewer was curious to know if there are any alternative blockchain applications, other than Bitcoin, that the firm is currently focused on.
In response, Wood asserted that Ethereum (ETHER) and Solana (SOL) are some of the most promising networks in the market. ARK Invest is already focusing on Ether and its position in the market as a leader in smart contract adoption and Decentralized Finance (DeFi). 
However, Wood is even more convinced that Solana is outpacing Ethereum as a blockchain network with its structural advantages.

"There are infrastructure players," she remarked. "Solana is doing a really good job. If you look, Ether was faster and cheaper than Bitcoin back in the day; that's how we got Ether. Solana is even faster and more cost-effective than Ether. So there is infrastructure at play. We do believe Web3 digital assets are big ideas." She asserted. 
Solana (SOL) has since surged following super-positive developments. SOL saw a 12% increase in its daily gains as market sentiments have become even more bullish as bulls eagerly look forward to a $100 price point. At report time, SOL is trading for $62.
Notably, SOL is the highest-performing altcoin within the top 10 category, with monthly and weekly gains sitting at 187% and 46%, respectively. Market cap and trading volume are also in the green zone. 
Meanwhile, Wood remains just as bullish on Bitcoin as in previous times. Pushing back on the narrative that a "Bitcoin 2.0" might be in the works, she explained that market players have already tried and failed.
Although it was noted that a handful of traditional investors are still yet to grasp the concept of Bitcoin fully, Wood insists that the Bitcoin network has revolutionized the concept of money.
As she further explained,
"I think most people understand that Bitcoin is the money revolution. This is the first global, private, digital-rules-based monetary system in history."
Source: Read Full Article