Stablecoin Issuer Tether Plans To Invest $500 Million In Bitcoin Mining To Become The Biggest Miner – Coinpedia Fintech News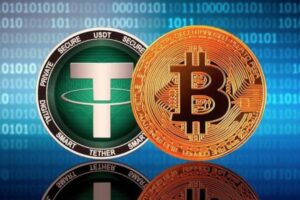 In a significant move, Tether Holdings Ltd., known for its dominance in the stablecoin market, is now aiming big in the Bitcoin mining sector as it promises solid growth with its recent trends. Tether is already making serious progresses in BTC mining and now it plans to invest $500 million to become the biggest player in the mining sector.
Tether Builds Its Mining Facilities
Tether Holdings Ltd., a major player in the stablecoin market with a valuation of $87 billion, is setting its sights on becoming a leading Bitcoin miner. The company is preparing to channel a substantial investment into the already highly competitive Bitcoin mining industry.
According to Bloomberg, Paolo Ardoino, the soon-to-be chief executive of Tether, revealed that the company is going to invest around $500 million for the next six months. This investment will be directed towards two key areas: building its own Bitcoin mining facilities and acquiring stakes in existing mining companies.
Part of this investment strategy includes a $610 million credit facility that Tether recently extended to Northern Data AG, a publicly-traded Bitcoin mining firm. This move follows Tether's acquisition of shares in the Frankfurt-based company in September, showcasing its active involvement in the Bitcoin mining sector.
This new initiative represents a significant shift for Tether, primarily known for managing the USDT stablecoin. Tether's entry into the Bitcoin mining sector, backed by its considerable financial resources, could potentially disrupt the competitive landscape for Bitcoin's limited supply. Additionally, this move offers Tether an alternative route to diversify its revenue streams.
Recently, Shawn Dolifka has opted not to appeal the U.S. District Court's ruling in favor of Tether and Bitfinex, marking a legal win for the companies. Judge Laura Taylor Swain's dismissal of the meritless lawsuit, accusing them of making false statements about USDT reserves, is now final.
Tether Targets 450MW In Mining Operations By 2025
Ardoino revealed that Tether is establishing Bitcoin mining operations in Uruguay, Paraguay, and El Salvador, each with a capacity of 40 to 70 megawatts. The company aims to increase its contribution to the total computing power of the Bitcoin network to 1%, though Ardoino did not specify a timeline for achieving this objective.
Tether plans to expand its direct mining operations to 120 megawatts by the end of 2023 and aims for up to 450 megawatts by 2025. The company has set aside about $150 million for mining investments, with ongoing deployment across new sites.
With major players such as BlackRock and Fidelity entering the race for a spot Bitcoin ETF, there's a surge in institutional interest in Bitcoin. Tether looks on this growing demand and doesn't want to be left behind. Tether is currently considering a site with a 300-megawatt capacity, according to Ardoino, with its mining operations already yielding profits due to rising Bitcoin prices.
Source: Read Full Article