This Bitcoin Chart Mirrors Sinister 2019 Shadow: Retrace To $20,000 On The Horizon?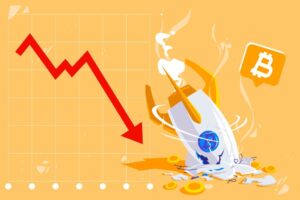 Bitcoin (BTC), the largest cryptocurrency by market capitalization, has faced a setback in its recent gains after failing to consolidate above the $27,000 level. With no positive macro news to drive BTC beyond upper resistance lines, industry experts are looking for a chart analysis that suggests BTC may be on the verge of a significant move toward $20,000. 
This potential lower price point could serve as a new higher low in Bitcoin's 1-week chart, reminiscent of its trajectory in 2019 before the halving event.
Bitcoin Chart Flashing Red
Crypto analyst Rekt Capital recently shared a chart on X (formerly Twitter) outlining Bitcoin's potential downward trajectory. According to Rekt Capital's analysis, Bitcoin may revisit the $20,000 mark, establishing a new higher low on its 1-week chart, mirroring the price movement observed in 2019 before the halving event.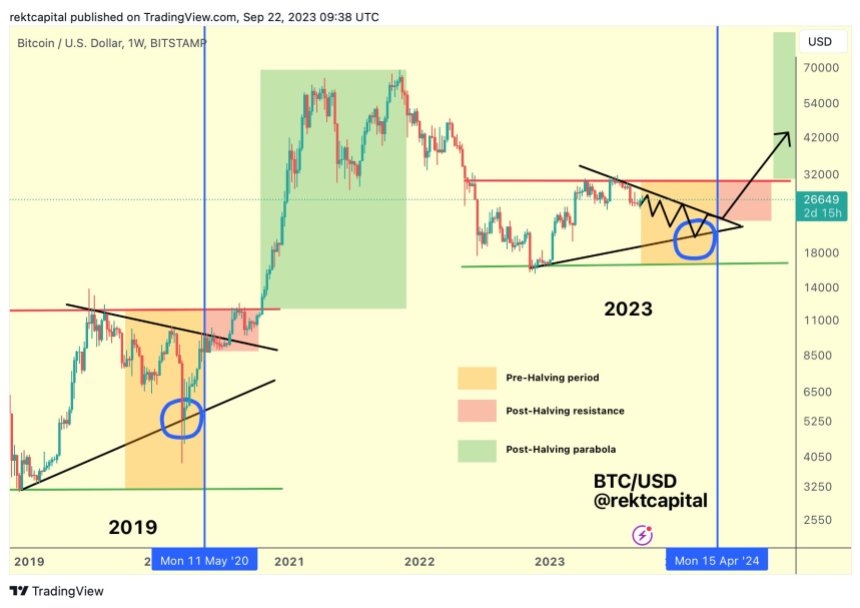 Rekt Capital highlights the significance of a revisit to the Macro Higher Low in the current cycle, which could occur in early 2024, coinciding with the halving year. In the four-year cycle, this would signify that the downside wick of Candle 4 would form a Macro Higher Low relative to Candle 3, as seen in another chart shared by Rekt below.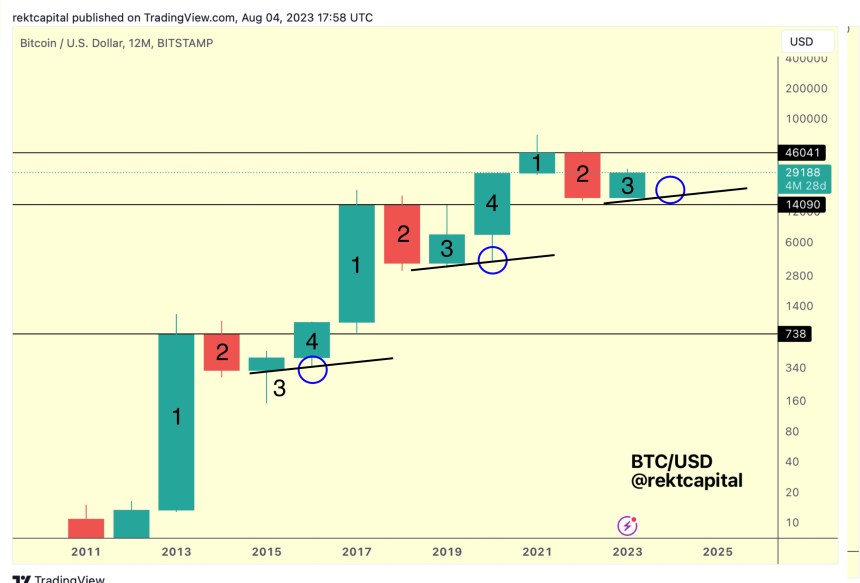 While some argue that another drop into the Macro Higher Low is unlikely due to the COVID-19 crash in March 2020 as a black swan event, Rekt Capital emphasizes that the magnitude of a potential upcoming drop may differ considerably. 
The COVID-19 crash resulted in a 72% drop from the 2019 local top to the March 2020 higher low. However, if the 2023 local top were around $31,000, it would only require a 37% drop to revisit the higher low. 
While a repeat of the -72% crash is unlikely, Rekt Capital suggests that Bitcoin could retrace -37% without needing another black swan event.
With Bitcoin being 210 days away from halving in April 2024, Rekt Capital parallels the 2019 cycle, during which BTC experienced a relief rally before forming another lower high. 
All around, Bitcoin appears to be experiencing a similar relief rally. Rekt Capital suggests that Bitcoin may not need a drastic crash or another black swan event over the following months to reach its Macro Higher Low in this cycle but rather a retracement of approximately 27% from current prices.
Currently, the largest cryptocurrency in the market is trading at $26,600. Despite experiencing a retracement below the $27,000 level, Bitcoin has achieved a slight profit of 0.7% within the 24-hour. 
As highlighted by Rekt Capital, it remains uncertain whether Bitcoin will follow the path observed in 2019. However, what is evident is that the BTC market is exhibiting signs of stagnation, with a potential price breakout looming on either side. 
Featured image from iStock, chart from TradingView.com 
Source: Read Full Article