Why BTC Use Is Growing in Argentina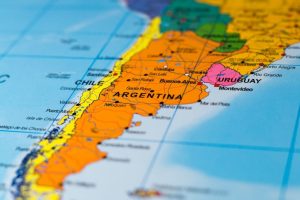 Argentina is a country that has witnessed the death of its national currency, the peso. The asset has been devalued so much that many people in the country – despite the falling prices – continue to resort to bitcoin and other cryptocurrencies to survive and obtain the services they need.
Argentina Is Growing to Love Bitcoin
Romina Sejas is one such person who uses crypto on a regular basis. A native of Argentina, Sejas got her crypto start while working a job preparing pizza dough. One of her friends at the establishment suggested leavening the dough at his "mine." Sejas was very confused by this statement and didn't quite know what he meant. She said in a recent interview:
I was so confused. I thought mines involved men with helmets and picks.
What happened next shocked her even more. The friend opened a door at his home and showed her long lines of computers and rigs. He then began to explain to her all this technical jargon about cryptocurrency and the process of extracting digital currency units from the blockchain. He also said that the mines consume more energy than standard ovens, meaning they could cook the dough even faster than what the restaurant's ovens could do.
He also explained to Sajas that in mining crypto on the side, he could easily supplement his income, and he could thus survive instead of having to scrape the floor for coins when the $800 he earned each month from the pizza restaurant wasn't enough.
Marcos Buscaglia – an economist in Buenos Aires, Argentina – recently discussed the poor conditions surrounding the peso. He commented that the currency the nation was once literally running on is no longer a serviceable asset, and that many have simply had no choice but to abandon it altogether due to the amount of value it's lost in recent years. He commented:
Money here is like ice cream. If you keep a peso for too long, it melts in terms of how much you can buy with it.
Not Everyone Knows What Crypto Is About
In addition to bitcoin and crypto, many residents of Argentina have also taken to utilizing the fiat currencies of other countries. For example, the dollar has gained massive amounts of popularity. However, in the end, it appears bitcoin reigns supreme amongst the country's native citizens, with a recent survey suggesting 60 percent of people in the region believe bitcoin is going to help them garner savings over the coming years.
While there are many positive elements to this situation, some are concerned about the risks that crypto tends to present. Vicente Cappelletti is a 26-year-old resident of Argentina that has thus far lost more than ten percent of his portfolio, and he says that in many ways, people are investing without fully understanding what the space stands for.
Source: Read Full Article