China Industrial Output, Retail Sales Data Miss Expectations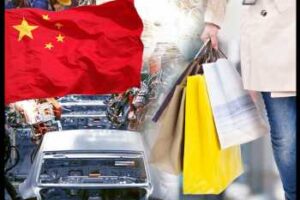 China's industrial production and retail sales expanded at faster rates in April but both missed expectations signaling that monetary policy easing might be needed to regain the strength experienced after the scrapping of zero-Covid policy.
Industrial production posted an annual growth of 5.6 percent in April, faster than the 3.9 percent increase in March, the National Bureau of Statistics said Tuesday. However, the pace of expansion was weaker than economists' forecast of 10.9 percent.
At the same time, retail sales growth accelerated sharply to 18.4 percent in April from 10.6 percent in March. Still, the rate missed expectations for a 21.0 percent increase.
During January to April, fixed asset investment registered an annual increase of 4.7 percent. That was bigger than the 5.1 percent rise in January to March period, but slower than the 5.5 percent gain economists had expected.
The urban jobless rate dropped marginally to 5.2 percent in April, while economists had forecast the rate to remain unchanged at 5.3 percent.
Recent official data also suggested a slowdown in economic activity. Factory gate deflation had deepened in April to 3.6 percent from 2.5 percent in March. At the same time, consumer prices rose only 0.1 percent, the slowest since February 2021.
Suggesting weak global demand, exports grew at a slower pace of 8.5 percent in April after surging 14.8 percent in March. Moreover, imports declined 7.9 percent.
Beijing aims to achieve a growth target of around 5.0 percent in 2023. The International Monetary Fund had projected China's economy to grow 5.2 percent this year and 4.5 percent in 2024.
Source: Read Full Article