Eurozone Retail Sales Decline Moderates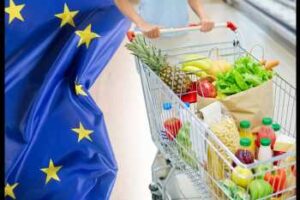 Euro area retail sales slump slowed in September as the deeper fall in the non-food segment was partially offset by the rebound in food sales, but the data cast doubt over the ability of household spending to contribute to economic output.
Retail trade dropped 0.3 percent month-on-month in September, which was slower than August's revised 0.7 percent decline, figures from Eurostat showed Wednesday.
Sales were expected to ease 0.2 percent. Retail turnover has declined in each and every month of the third quarter.
The year-on-year decline in retail sales worsened to 2.9 percent from 1.8 percent. Sales were forecast to fall more sharply by 3.1 percent.
Capital Economics economist Pollyanna Hall said sales are set to remain weak in the coming months as the economy falls into a recession.
The 20-nation single currency bloc had contracted 0.1 percent in the third quarter, partially reversing the 0.2 percent expansion in the second quarter.
Food, drinks and tobacco sales rebounded 1.4 percent, reversing a 0.4 percent drop. By contrast, non-food product sales declined at a faster pace of 1.9 percent after a 0.6 percent fall.
Mail orders and internet sales posted a monthly decrease of 1.9 percent after falling 2.0 percent in the previous month.
Sales of automotive fuel in specialized stores were down 0.9 percent, slower than the 2.4 percent fall in the prior month.
Data showed that retail sales in the EU27 slid 0.2 percent on month taking the annual fall to 2.7 percent in September.
Among member states of EU27, the largest monthly decreases in the total retail trade volume were registered in Slovakia, Sweden, Germany and the Netherlands.
Meanwhile, Slovenia, Poland and Denmark posted the highest increases in retail sales.
Source: Read Full Article