How to close the superannuation gender divide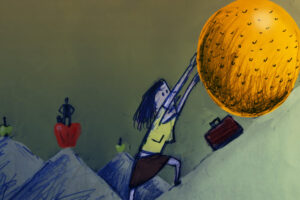 Save articles for later
Add articles to your saved list and come back to them any time.
The super savings gender gap could be substantially narrowed if the federal government paid superannuation on the 20-week paid parental leave scheme and paid a "baby bonus" into super accounts.
Modelling by the Association of Superannuation Funds of Australia (ASFA) shows that paying new mothers a baby bonus into their super account and also paying the super guarantee on the Commonwealth Parental Leave Pay scheme would almost offset the retirement penalty of taking time off paid work to care for young children.
More needs to be done to help close the super savings gender gap, says the Association of Superannuation Funds of Australia.Credit: Matt Davidson
Leading up to retirement age, the median super balance for women is about 25 per cent lower than for men. More employers are providing paid parental leave, but many – mostly small employers – do not.
The Commonwealth Parental Leave Pay scheme pays a parent the minimum wage for up to 20 weeks.
ASFA figures show a woman earning an average wage of about $70,000, who takes a year off work, reduces her projected super balance at retirement to $522,700 from $540,300 or a "super loss" of $17,600 in today's dollars.
However, ASFA modelling shows that the combination of payment of super on the Commonwealth Parental Leave Pay scheme and a $5000 super "baby bonus" to super accounts of women upon the birth of a child, would almost fully offset the impact of a year off paid work.
There are many reasons for the super gender gap – but a key reason is women taking time out of the workforce or working reduced hours to have and raise children, says Glen McCrea, the deputy chief executive officer of ASFA – which has long lobbied for policies changes to help reduce the gap.
Another measure promoted by ASFA is for an increase in the threshold for the payment of the low-income superannuation tax offset (LISTO) to $45,000, from $37,000.
The offset is a government payment that effectively refunds tax paid on super contributions and would increase the amount going into super accounts of those, mostly women, who return to part-time work after having children.
ASFA estimates this measure alone would increase the number of women benefiting from the offset from 1.4 million to 1.9 million.
The three measures are targeted at "low- and middle-income people who do not have big super balances and who may be working part-time – those who are missing out on getting enough super to retire with dignity," McCrea says.
Labor has said it wants to pay super on the Commonwealth Parental Leave Pay scheme but the May 2023 budget did not include the measure, amid concerns about the size of the structural deficit.
The budget did announce that from July 1, 2025, the tax breaks going to those with very larger super balances will be restricted, which could help offset the costs of the measures proposed by ASFA.
McCrea says the measures would not put upward pressure on inflation as the money in super is locked away until retirement.
"They are targeted measures aimed at a particular cohort … that make sure more Australians can retire with a bit more dignity," McCrea says.
"A core goal of superannuation policy should be to improve equity in the super system – including between men and women."
The Commonwealth Parental Leave Pay scheme is 20 weeks and the Albanese government intends to bring forward legislation before July next year to increase the scheme to 26 weeks from July 1, 2026.
Advice given in this article is general in nature and is not intended to influence readers' decisions about investing or financial products. They should always seek their own professional advice that takes into account their own personal circumstances before making any financial decisions.
For expert tips on how to save, invest and make the most of your money, delivered to your inbox every Sunday, sign up for our Real Money newsletter here.
Most Viewed in Money
From our partners
Source: Read Full Article