Savers can earn over 5 per cent, but only if they read the fine print
Save articles for later
Add articles to your saved list and come back to them any time.
While long-suffering savers will likely be relieved to hear they can now earn more than 5 per cent interest on their cash, they may be less elated with the numerous hoops they may have to jump through to get there.
Eleven interest rate rises since the start of 2022 have finally dragged up interest rates on savings accounts to a respectable level. While lower rates are paid with no terms and conditions, the highest ongoing rates are typically loaded with fine print.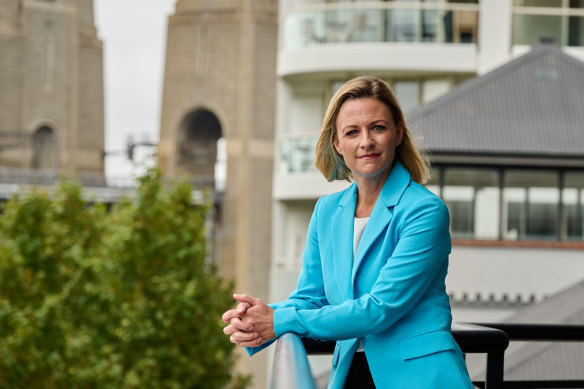 RateCity's Sally Tindall says complacent savers could be missing out on rates of more than 5 per cent Credit: Michael Quelch
Those who are well organised will likely have little trouble in earning high interest, but savers who struggle to meet the conditions could be better off with a savings account they do not have to "babysit", says Sally Tindall, the research director of RateCity.
"There's no point signing up to one of the highest rate savings accounts, but then going on to miss out on the bonus interest every other month," she says.
"With some higher paying ones, it's like having to pat your head, rub your stomach and hop on one foot at the same time – as soon as you stop concentrating, you're out."
To earn more than 5 per cent, savers will usually have to deposit a certain amount into the linked transactions account each month, make a certain number of purchases on that account and increase the savings balance every single month.
Tindall says that savers have to be even more vigilant to get a good rate, as the gap between the highest and lowest rates has widened each time the Reserve Bank of Australia has increased the cash rate.
It is not unusual for the same bank to have savings accounts with considerable differences in the highest and lowest savings rates, Tindall says.
"Proactive customers are now enjoying rates of 5 per cent or more, while complacent ones are still stuck on rates that start with a '1'," she says.
The amount of interest that savers are forgoing who do not shop around is far from trivial with more than $1.45 trillion in retail deposit accounts, after accounting for the cash held in transactions accounts and term deposits.
RateCity's database lists the best paying ongoing savings rates, where conditions have to be met to earn the higher rate, as BOQ Future Saver, which pays 5.3 per cent but is only available to those aged ages 14-35. It has a "base" rate of 0.05 per cent if one of the conditions is not met.
ING Savings Maximiser pays 5.25 per cent with a base rate of 0.55 per cent and Virgin Money Boost Saver pays 5.1 per cent, with a 32-day withdrawal notice period and a base rate of 0.05 per cent.
Tindall says those offering the highest rates are aiming to have the saver make the bank their primary bank.
In order for most people to meet the conditions that likely means having your salary deposited in the account linked to the savings account and using that account to pay for things, Tindall says.
The best-paying savings rates where there are no conditions listed on the RateCity database are ANZ Plus Save, which pays 4.5 per cent; Macquarie Bank Savings Account, which pays 5.05 per cent for four months, then a new rate of 4.25 per cent from May 19; and Bank of Queensland Simple Saver, which pays 4.8 per cent for four months, then 4.25 per cent.
Advice given in this article is general in nature and is not intended to influence readers' decisions about investing or financial products. They should always seek their own professional advice that takes into account their own personal circumstances before making any financial decisions.
Most Viewed in Money
From our partners
Source: Read Full Article