Thai GDP Growth Slows In Q3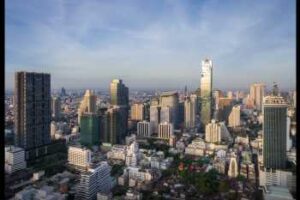 Thailand's economic growth unexpectedly softened in the third quarter on falling government spending and weaker exports, the Office of the National Economic and Social Development Council said Monday.
Gross domestic product grew 1.5 percent annually after rising 1.8 percent in the second quarter. The growth rate was forecast to improve to 2.4 percent.
Quarter-on-quarter GDP growth accelerated to 0.8 percent from 0.2 percent in the previous three months. Nonetheless, this was weaker than economists' forecast of 1.2 percent expansion.
Household spending and investment contributed positively on the expenditure-side, while government consumption acted as a drag.
In the external sector, exports slowed down, whereas imports logged a consecutive fall.
Private consumption growth improved to 8.1 percent from 7.8 percent, driven by a persistent rise in numbers of domestic and foreign tourists.
Growth in gross fixed capital formation advanced to 1.5 percent from 0.4 percent. The improvement reflects strong private investment in construction and machinery.
By contrast, government spending declined 4.9 percent after a 4.3 percent fall.
The decrease resulted from social transfers in kind – purchased market production which plunged 38.6 percent, due mainly to healthcare spending on COVID-19.
Exports grew only 0.2 percent, following a 0.6 percent gain. At the same time, imports decreased at a faster pace of 10.2 percent after a 2.3 percent drop a quarter ago.
The government forecast the economy to grow 2.5 percent in 2023, after a 2.6 percent rise in 2022.
In 2024, growth is seen in the range of 2.7 percent to 3.7 percent.
Headline inflation is estimated to be in the range of 1.7 – 2.7 percent and the current account is projected to record a surplus of 1.5 percent of GDP.
Capital Economics' economist Gareth Leather said the economy is likely to record steady, if unspectacular growth over the coming quarters, underpinned by looser fiscal policy and a further recovery in the tourism sector.
Source: Read Full Article