U.S. Economic Growth Unrevised At 2.1% In Second Quarter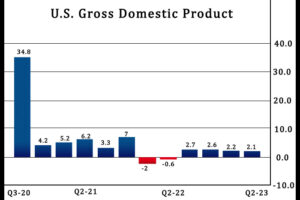 The Commerce Department released a report on Thursday showing the pace of U.S. economic growth in the second quarter of 2023 was unrevised from the previous estimate.
The report said real gross domestic product increased by 2.1 percent in the second quarter, unrevised from the estimate provided last month. The unrevised reading matched economist estimates.
The unrevised GDP growth in the second quarter still reflects a slight slowdown compared to the 2.2 percent growth in the first quarter.
The Commerce Department said downward revisions to consumer spending and federal government spending were offset by upward revisions to nonresidential fixed investment, exports, private inventory investment, and residential fixed investment.
The increase in GDP during the second quarter reflected increases in nonresidential fixed investment, consumer spending, and state and local government spending that were partly offset by a decrease in exports.
Meanwhile, the report said the slight slowdown compared to the first quarter primarily reflected a deceleration in consumer spending, a downturn in exports, and a deceleration in federal government spending.
The negative contributions were partly offset by an upturn in private inventory investment, an acceleration in nonresidential fixed investment, and a smaller decrease in residential investment.
The Commerce Department also said consumer price growth in the second quarter was unrevised at 2.5 percent. Excluding food and energy prices, core consumer price growth was also unrevised at 3.5 percent.
"The big news is not that nothing has changed, but that the economy remains resilient, inflation remains elevated and the Fed's worst case scenario – for now – has been avoided (e.g. stagflation)," said Chris Zaccarelli, Chief Investment Officer for Independent Advisor Alliance.
He added, "Given how much the Fed has raised rates, it's impressive that the economy is still growing at an inflation-adjusted rate of 2.1%, especially considering the nominal level of growth is really high when inflation is running close to 4%."
Source: Read Full Article