Despite the Crash, Top Crypto Analysts Predict Impending Parabolic Surge for Ether (ETH)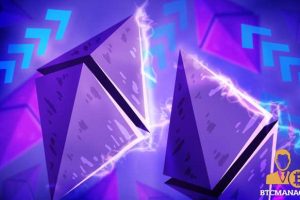 Cryptocurrency analysts are predicting that the price of the world's largest altcoin, Ether (ETH) is about to witness a significant surge against bitcoin (BTC). If ether's bullish momentum continues, analysts say the digital asset could well surpass the $5k price region.
Ether (ETH) Going Parabolic
While bitcoin (BTC) faithful are still anxiously awaiting the flagship crypto's leap towards the $100k price region, it appears Ethereum's ether altcoin will be the one to lead the crypto markets to the peak of this bull season, if price predictions by top crypto analysts are anything to go by.
Data available on TradingView shows the ETH/BTC pair hovering near the three-year high region, however, the analysts have predicted that ether could further dwarf BTC this season with a powerful vertical move.
In a December 3 tweet, GalaxyBTC a popular cryptocurrency analyst tweeted:
"I've been waiting and publicly charting ETH/BTC on the big picture for years, and now we are finally here. $ETH is about to start going into parabolic mode. Just wait and see how crazy things are about to get."
While it's very hard to pinpoint the exact elements fueling ether's recent surge, the effect of the recently implemented EIP-1559 feature which burns ETH gas fees instead of sending it to the miners is undoubtedly a great factor.
According to the ETH fee burn tracker, WatchtheBurn, a total of 1,098,786 ETH has been burnt since the coming of EIP1559, amounting to a massive $4,837,712,550.
Per the analysts, ETH/BTC reached 0.0085 this week, its highest point since May 2021, when the digital asset made a huge spike.
Despite the analysts' bullish Ethereum predictions, some members of crypto Twitter have expressed doubts over the possibility of ETH outperforming bitcoin this year.
"For EH/BTC o get to 0.2, ETH has to brutally outperform BTC. If BTC reaches $100k (+80 percent), hen ETH has to quadruple in price to $20k, to reach the 0.2 level. I can totally see that happening next year with the Eth2.0 delivery," tweeted @rudxkru.
At press time, ether (ETH) is trading around $3,800, while the bitcoin price is hovering around $55,472, according to CoinMarketCap.
Related posts:
Source: Read Full Article