Ether (ETH) Eyes $900 as Crypto Analysts Await Major Altcoin Rally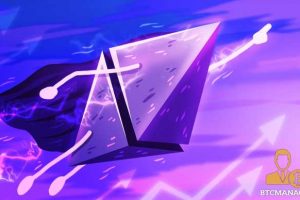 Following bitcoin's (BTC) historic price trajectory, ether (ETH) is now trading above $850.
ETH Following in on BTC's Steps
Bitcoin, the largest cryptocurrency in the world by market cap is seemingly in no mood to stop. Merely weeks after breaking through the multi-year long ATH of close to $20,000, BTC is now trading above $34,000.
Trailing BTC is ether, the native cryptocurrency of the Ethereum blockchain.
At the time of writing, ETH is trading at $870, a three-year high and up by 10.4% in the last 24-hours trading period, according to data from CoinGecko.
At press time, ether's market cap stands at a strong $95.4 billion, just shy of the $100 billion mark.
It's interesting to note that despite ether's eye-popping rally to its current market price, it is still almost 50% down from its ATH value of more than $1,440 at the peak of the 2018 crypto bull run.
However, this time around, things are vastly different for the second-largest cryptocurrency.
Increasing Institutional Interest and Ethereum 2.0
Among other factors such as strengthening fundamentals, the rising institutional investment in ether has been instrumental in shaping ETH's explosive rally.
In April 2020, BTCManager reported that Grayscale Investments had bought almost half of all ETH mined until then in 2020.
As reported by BTCManager on December 28, according to Ryan Watkins, an analyst at Messari, in 2021, institutions will come after ETH which could lead to the digital currency's dramatic price appreciation.
At the time, Watkins dubbed the CME Group's decision to launch ether (ETH) futures from February 8, as the "writing on the wall" that institutions will soon (if they haven't already) begin the buying frenzy for ETH.
Another major factor to contribute to ETH's monstrous rally witnessed for the majority of 2020 is the launch of the highly-anticipated Ethereum 2.0 network.
ETH 2.0 successfully went live on December 1 with the release of the Beacon Chain as announced by the Ethereum community. The launch was backed by the ETH community with almost 900,000 ETH staked, surpassing the 524,288 ETH threshold required for the upgrade.
Soon after ETH 2.0's launch, economist Raoul Pal noted that ETH's adoption as programmable money may see it becoming the largest cryptocurrency by market cap, overtaking BTC within the next ten years.
Source: Read Full Article