Ethereum Foundation Sells $30 Million Worth Of ETH As Price Nearly Breaks $2k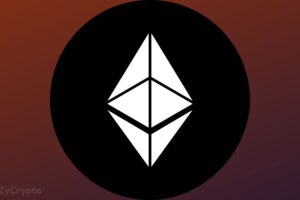 The Ethereum Foundation has transferred 30 million worth of ETH to Kraken igniting massive sell-off concerns among users.
ETH price plunged by 4%, hanging on to the $1,900 mark on May 7 before sliding below the resistance following the sell-off rumours. 
Digital asset analysts have drawn similar patterns with the last two sell-offs by the Ethereum Foundation and Vitalik Buterin.
Ethereum (ETH) trades at $1,832 after a rough weekend for digital assets plagued with congestion on the Bitcoin Network and massive sell-off concerns.
According to data from crypto analytics firm Lookonchain, Vitalik Buterin transferred almost half a million worth of ETH to Kraken before the Ethereum foundation did the same with about $30 million worth of ETH.
At the time of both transactions, ETH exchanged hands at $1,960, with bulls holding on to the thoughts of $2,000. The price of ETH has trickled down weeks after the Shapella update, although its on-chain data still point upwards.
The transfer of millions worth of digital assets to exchange often indicates a rising balance springing up selling pressure from traders. In this case, despite the transfer of $30 million and mounting sell pressure, ETH balances on exchanges dropped from 18.22 million to 18.15 million over the weekend, showing signs of a strong recovery.
Sequel to the news, digital asset analysts compared market trends from past sales of ETH by the foundation and Buterin. The last big sale came in 2021, when 20,000 ETH was sold before the bear market kicked in. On the flip side, the foundation has also made large sales in the past during bull cycles, with the price surging.
 Although large sales in the past preceded ETH plunging into the red zone, little or no lines can be drawn to establish a connection between the sale and the market's bearish outlook.
ETH bulls look toward a breakout above $2k
ETH now exchanges hands at $1,847, a 4.32% drop in the past 72 hours as the wider crypto market goes red. Despite this drop, on-chain indicators like ETH's 200-day exponential moving average look good to push through the resistance.
Furthermore, data aggregator Santiment believes that the huge inflow of ETH in exchanges could spark an initial uptick in price similar to the scenario in 2022. The firm took to Twitter to explain that ETH looks set to decouple from Bitcoin on the verge of breaking $2k.
"Updating our report on #Ethereum's sky-high active deposits, exchange addresses interacting on the network is now at its highest level since November 2021. As expected, $ETH is showing decoupling signs and on the cusp of breaking $2k once again," the tweet reads.
Source: Read Full Article