Massive Falling Wedge Forms on Ethereum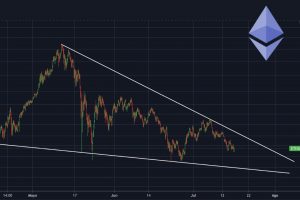 A three months long falling wedge appears to be forming on ethereum and other cryptos, including bitcoin.
The falling wedge pattern forms when the market makes lower lows and lower highs with a contracting range.
When this pattern is found in a downward trend, it is considered a reversal pattern, as the contraction of the range indicates the downtrend is losing steam.
Currently ethereum is testing support yet again at about $1,800s with it unclear whether bulls will be able to defend it.
If they do, then bears will be forced to cover, leading to an upwards movement. The wedge, courtesy of ethtrader, suggests the latter is likely, though not certain.
The drawing can be criticized on technical grounds with some suggesting three points are needed, but on fundamentals, price may be due for a reversal as well.
First, the three months long intense Fear Uncertainty Doubt (FUD) atmosphere appears to be nearing an end. Miners are out of China now, there isn't much more FUD that can come from there and instead a reversal seems to have began in hashrate.
The Grayscale FUD is also coming to an end on Sunday, with that too paving the way for better news as the stock pressure from GBTC rescinds.
Political and environmental FUD has also run its course with it unclear where any further FUD would come from.
Some rant from Dogecoin's co-founder, Jack Palmer, who was previously driven out of twitter ostensibly due to engaging in identity politics, probably won't hold much water. So there may be clearer skies ahead.
Second, there's now quite a bit to look forward to. In a couple of weeks, ethereum will start burning a portion of its total supply based on fees. That should act as a constant source of new demand and as a dividend for holders.
The bitcoin conference is coming up on Wednesday with Jack Dorsey, Ark Invest and Elon Musk. There might be announcements out of it. Musk is perhaps a bit bruised with Tesla's Q2 earnings expected to suffer due to bitcoin's price fall. So he might not be a clown this time, but a nice bitcoiner. The other two definitely will behave.
Then there's August to look forward to. The holiday month isn't great for stocks due to lack of liquidity which can cause volatility, but for bitcoin previously during bull markets it started slowly rising around mid-July and August, with that gentle assent gradually building confidence.
So whether the TA chart above is right or otherwise remains to be seen, as is the case for whether fundamentals will have much of an effect, but at the very least a change in ethereum's nature from an investment perspective you'd think would have some effect in either increasing upwards price pressure or refraining it from falling as much as it otherwise would have done.
Source: Read Full Article